SMM11, 8 March News: in early trading this morning, Shanghai Tin rose for the third day in a row and broke through all averages. By the end of the day, Shanghai Tin main contract 1901 closed at 147600 yuan / ton, an increase of 1.17% in the past three days. Over the past two days, it has risen by 2000 yuan per ton, or 1.38 per cent.
The recent trend of the main force in Shanghai and tin:

Spot tin price trend: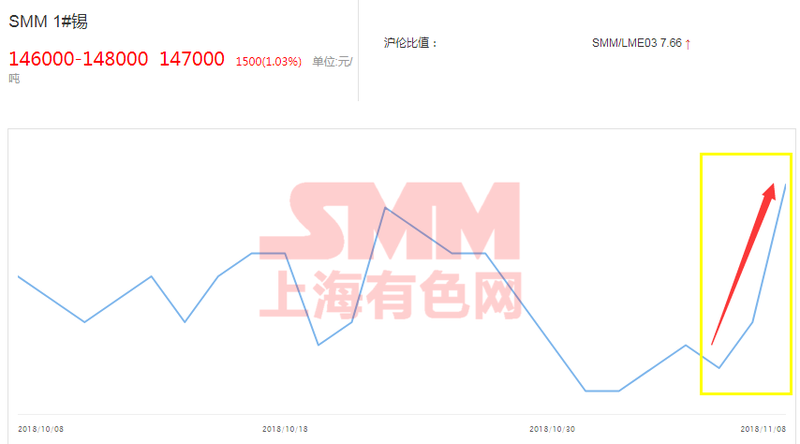 Since the beginning of October, the trend of tin prices has continued to fluctuate and consolidation, often hovering above and below the EMA, but the recent Shanghai tin trend jumped up, showing a continuous upward trend. According to SMM, it was mainly affected by a stack of good news in three areas: disruptions in Indonesian tin exports, a decline in Myanmar's tin imports and a drop in Chinese smelter production in October.
Indonesian tin exports interrupted
Trading in tin on the Indonesian Commodity and Derivatives Exchange has been completely suspended since October 26, because tin ingots entering the designated storage area of the exchange cannot use the tin ore origin certificate issued by PT Surveyor, according to the International Tin Association. ICDX's October tin trading volume was 5025 tonnes, down 39 per cent from 8270 tonnes in September.
Indonesia's tin exports have been disrupted, the supply of tin in the international market has become tight, and the European premium for 99.9 per cent of standard tin ingots has risen to a 21-month high of $380 to $450 per tonne. Spot prices of LME tin climbed to $19415 a tonne on October 24, boosted by the announcement, but gains narrowed to about $19100 a tonne on the day as a result of the current trade dispute and a strong dollar.
Myanmar tin imports decrease
Since the beginning of this year, Myanmar's tin imports have begun to decline, and the ore grade has also dropped sharply. according to the International Tin Association's annualized average of Myanmar's monthly shipments, from April 2017 to February 2018, The annual average monthly export volume has been increasing, but after February 2018, the upward trend has taken a turn, and the average monthly shipments have continued to decline in the following months. As ore stocks and concentrate stocks dry up, this decline will accelerate. Myanmar's mineral cargo volume is likely to remain below 4000 tons in the coming months. This will put more pressure on domestic smelters to purchase raw materials. In fact, the recent reduction in smelting processing fees, as well as the late delivery of tin mines ordered by many smelters, have in some ways reflected the accelerated decline in the volume of mineral cargo in Myanmar.
According to the International Tin Association, the inflection point of supply from Myanmar has emerged as a source of 40% of China's raw materials and an important producer of 20% of the world's tin supply. The change in Myanmar's freight volume will have a significant impact on the production of domestic tin ingots and the pattern of global supply and demand.
Output of Chinese smelters fell in October
Refined tin production in October was 12311 tons, down 11.6 per cent from September, according to SMM. The output in October was significantly lower than that in September, mainly due to the reduction of production in Huaxi and Dajingzi tin industry in Inner Mongolia due to mining and equipment maintenance, while some production enterprises in Yunnan and individual enterprises in Jiangxi affected production due to insufficient procurement of tin mines.
The latest import data released by the Customs show that there was a certain decline in tin imports from January to September, and the local tin mine stocks in WA State are relatively low. It is expected that the tight supply of tin mines will continue to affect some of the larger production enterprises. SMM expects refined tin production to be about 12900 tons in November, mainly due to the resumption of normal production in Huaxi and Dajingzi tin industry, but other enterprises will reduce production due to environmental acceptance and raw materials problems.