Anglo American (Anglo American Plc) is returning its business development focus to Africa to acquire mineral assets with stronger returns. The legendary mining company, founded in Johannesburg a century ago by Ernest Oppenheimer (Ernest Oppenheimer), is currently devoting 1/3 of its exploration budget to the African continent, including the search for copper and cobalt in Angola and Zambia. In South Africa, it is investing in platinum, diamonds and iron ore, mines that are making a profit for the company. The London-based company believes Africa can provide a new ore portfolio, even if BHP and Rio Tinto largely avoid the continent and focus on returning cash to shareholders.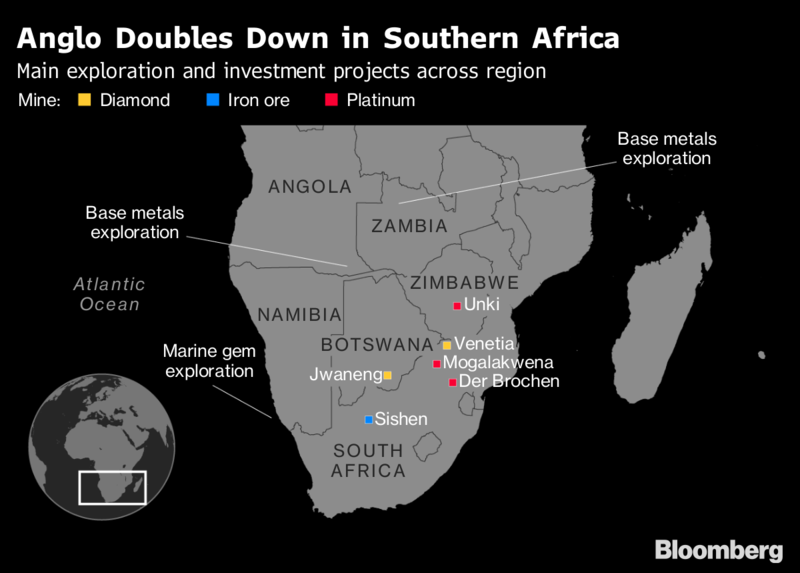 After the collapse in commodity prices in 2015, Anglo American talked about selling assets in South Africa, where it is home to its largest diamond, iron ore and platinum gold mines.
Early last year, Anglo American confirmed that the plan has been shelved, South Philippines still has high development potential.
Anglo is planning to spend $2 billion to develop underground deposits in Venetia, South Africa, the biggest investment in a South African diamond mine in decades. An additional $4 billion will be invested in iron ore, manganese and coal over the next five years.
Mark Cutifani, chief executive of Anglo, said earlier this year that "South Africa plays an important role for the company".
Anglo American shares have risen 13 per cent this year, making it one of the 11 best performers in the FTSE 350 index.
At present, changes in mining laws in Angola in Africa have persuaded Anglo American to increase its exploration for copper in its existing diamond exploration activities in the African region.
"We are applying for exploration concessions to explore basic metals," said James Wyatt-James Wyatt-Tilby, Anglo American spokesman.
Although Anglo pulled out of its Zambia copper business 16 years ago, copper prices quadrupled, prompting the company to reconsider the prospect.
(note: if copyright issues are involved, please contact SMM and we will deal with them in a timely manner.)