SMM10, 17 March: Fitch recently released a report on the prospect of global zinc production, saying that global zinc production will continue to increase in the next few years as prices rise and mining companies restart spare capacity and key new mines. Global zinc production will continue to increase in the coming years as rising prices encourage miners to restart key new mines with spare capacity. The report focuses on the analysis of large zinc mines in Australia, Peru, China and India.
Although some of the shutdown between 2015 and 2016 was due to the permanent closure of some mines, the recovery of some stagnant capacity and the development of large zinc mining projects will boost economic growth in the coming quarters. Fitch expects global zinc production to grow 3.5 per cent to 13.7 million tonnes in 2018 and 16.8 million tonnes by 2027.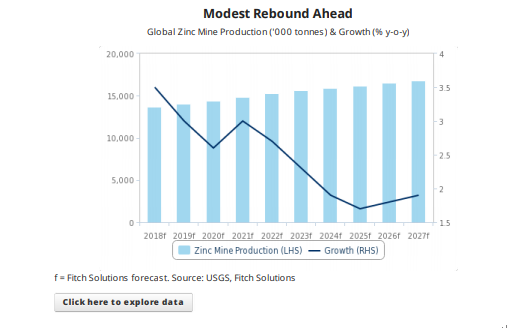 China:
China's zinc production growth has been hampered and is likely to stagnate because of declining ore tastes and increasingly stringent environmental regulations. The mineral resources protection and mining integration proposed in the 13th five-year Plan will be strengthened, which will exert pressure on China's zinc production. In addition, the plan strongly supports the development of state-owned enterprises, and as small miners continue to merge, it will ensure that China's zinc industry remains dominated by state-owned enterprises. Since August 2017, about 60 per cent of zinc and lead-zinc mines in Sichuan Province have been shut down and inspected because of persistent environmental pollution. In the first half of 2017, the zinc grade of polymetallic ores in China dropped slightly to 3.1%, followed by a 106% drop in zinc production.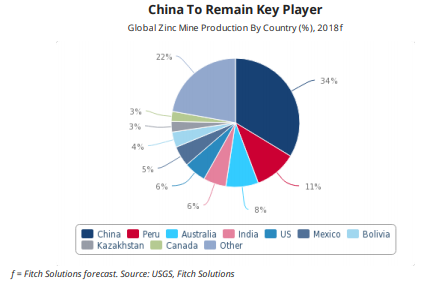 Australia:
Over the next decade, the Australian zinc industry will gradually recover from the closure of the mineral and metal group (MMG) Century Zinc Mine, which has been prompted by rising prices to restart its main business. The mine has been closed since the second half of 2015. Fitch has raised its forecast for zinc production growth to 12 per cent in 2018 and 8 per cent in 2019 in line with new century resources' restart plan for the third quarter of 2018. In addition, Glencore announced plans to restart the idle LayLoretta zinc mine in the first half of 2018, with production expected to reach 100000 tons in 2018, and the $1 billion Dugald River zinc mine invested by MMG will begin production in November 2017 and is expected to produce 170000 tons of zinc per year. Given the optimistic outlook for zinc prices in the coming years, Australian junior miners will continue to press ahead with zinc mine development projects. For example, Heron Resources awarded the underground mining contract for the Woodlawn copper and zinc project to Pybar Mining Services in February and expects to produce 40000 tons per year between the end of 2018 and the beginning of 2019.
India:
India will increasingly boost global zinc production as (Hindustan Zinc Limited,HZL, India's leading mining company, implements massive expansion plans. As the Rampura Agucha mine transitioned from open-pit to underground operations, HZL refined zinc production increased by 18 per cent to 791000 tons, according to the fiscal year to March 2018. The prospect of zinc production growth is stable, with zinc production expected to increase from 783000 tons in 2018 to 1.7 million tons in 2027. The company's Rampura-Agucha zinc and lead mine in Rajasthan is the world's largest zinc mine, with reserves of more than 110 million tons and a age of more than 25 years. The 64.9 per cent stake in Stan zinc is owned by Vedanta Resources (Vedanta Resource), which accounts for about 90 per cent of India's zinc production.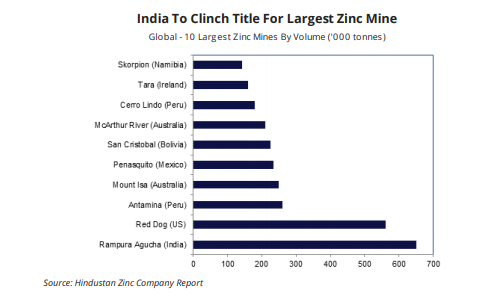 Peru:
Fitch expects total zinc production in Peru to reach 1.4 million tons in 2018 and 1.9 million tons in 2027, an average annual increase of 2.9 per cent. In the first quarter of 2018, Glencore reported a significant increase in Antamina mine zinc production to 30300 tons, a significant increase from 24500 tons in 2017. The main reason is the high proportion of copper / zinc ores being mined. Glencore owns 33.8 per cent of BHP Billiton, Tek Resources and Mitsubishi. In the first quarter of 2018, Compania de Minas Buenaventura, a domestic mining company, reported an average annual growth rate of 15 to 16600 tons of zinc production, due to the development of new mines in Uchucchacua and from Tambomayo. In the first quarter of 2018, Trevali Mining, a Canadian-based mining company, reported a slight decline in exploitable zinc production at Santander to 5000 tons, but continued to press ahead with Magistral North ramp development to obtain higher grade lead and zinc ore. The company expects affordable zinc production at Santander to rise slightly to between 24, 500 and 25, 900 tons by 2018.
(note: if copyright issues are involved, please contact SMM and we will deal with them in a timely manner.)