SMM, Oct. 12-the average price of alumina in SMM on Friday was 3072 yuan / ton, down 212 yuan / ton from before the festival. The number of odd and single transactions this week is not large, traders still play the leading role, but each transaction is down 50 to 100 yuan / ton on the basis of the previous one, resulting in a rapid decline in prices.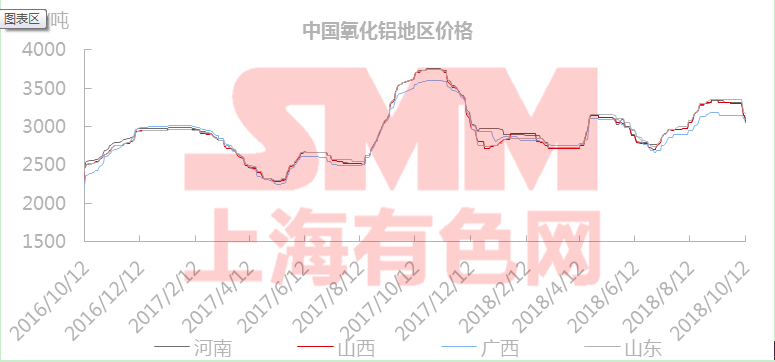 SMM point of view: alumina under pressure
1) amendments to exports. Chinalco's strike ended in September, Hydro repeated, and finally kept 50% of its production capacity running. However, the volume of alumina exports has been revised. Alumina exports will be closed in October, and there is still concern about whether the export window will be reopened from late November to December.
2) the production restriction policy issued at the national level is relatively loose in the heating season, and alumina enterprises can be exempted from production reduction if they meet the special emission standards.
3) because of the loss, the production capacity of electrolytic aluminum has been expanded, and the production capacity of electrolytic aluminum has been reduced by nearly 1 million tons from June to October. On the basis of the pressure of electrolytic aluminum, the production capacity of electrolytic aluminum may continue to expand.
3) Ore prices are still rising, but they can only be supported when alumina prices fall to the cost line.
4) Alumina has changed from insufficient supply to excess supply. The export is blocked, the heating season limit production is expected to decrease, the new capacity is put in, and the alumina supply is expected to be oversupplied by 200000 tons in October.
In short, the transformation of production limits in the export and heating season, the release of new production energy, coupled with the suppression of electrolytic aluminum production, the pressure on alumina prices is heavier, after the festival, traders are bearish, the sale price has been greatly reduced. As a result, the decline of alumina is accelerated, thus making it difficult to support 3000 yuan per ton, or causing alumina prices to go straight to the cost line.
(SMM Luo Qiaoling 021 51666863)