SMM10, 28 March: China's unforged copper and copper imports from January to September were 3.99 million tons, according to data released by the General Administration of Customs. Data released last month showed that China imported 3.47 million tons of unforged copper and copper from January to August, allowing it to measure imports of 520000 tons in September, up 21 per cent from a year earlier and the highest since March 2016.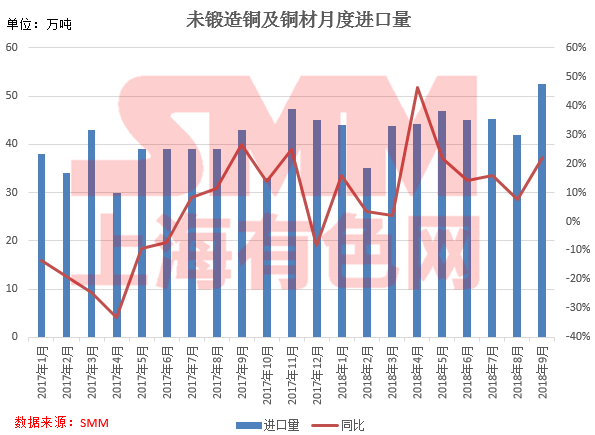 Zhang Huawei, an analyst at Soochow Futures, said: the data are in line with expectations, with replenishment at a discount of around $6000 per tonne downstream during the peak season. Last year, copper prices rose strongly in late September and early October, and many downstream companies were caught off guard and forced to replenish goods at high levels. Copper prices in September this year are still at a one-year low, downstream in the National Day before the low timely replenishment. But the sustainability of consumer demand remains to be seen. After entering October, the import profit window continued to close, and copper imports are expected to fall in October compared with the previous month.
According to SMM data, spot copper imports in September most of the break-even state, but from September 21, the import profit window closed.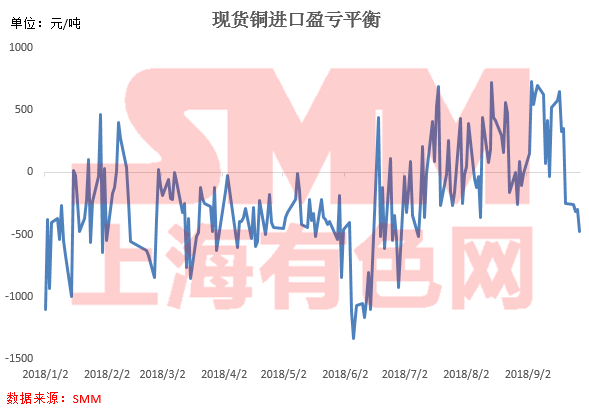 Since June, as copper prices have fallen sharply, the gap between refined scrap prices has narrowed, scrap copper has gradually withdrawn from consumption, scrap copper rod enterprises are struggling to continue to boost refined copper consumption.
In terms of inventories, inventories in the previous period fell to their lowest level since October last year, with inventories falling by a total of 160000 tons between early June and the end of September. September import profit window opened, continue to attract LME inventory and bonded area inventory to domestic migration, LME inventory fell to the lowest level since January this year, bonded area inventory has been less than 400000 tons.
Will the strike make a comeback in 2019 and what is the growth rate of copper concentrate? Can the current situation of domestic copper scrap cycle system make up for the gap of copper scrap import? New energy is expected to support copper consumption? Please pay attention to the "2018 China Nonferrous Metals Annual meeting and 2019 (SMM) Metal Price Forecast Conference" held by Shanghai Nonferrous Metals Network in Shanghai on October 19, at which there will be industry bigwigs, executives of well-known enterprises, and senior analysts of SMM copper. For everyone to see the sun, a detailed explanation of the copper market. At that time, more than 1000 elites and institutions in the industry will gather together, and there will be more than 10 well-known media reports at home and abroad. An industry feast is coming, we are waiting for your arrival!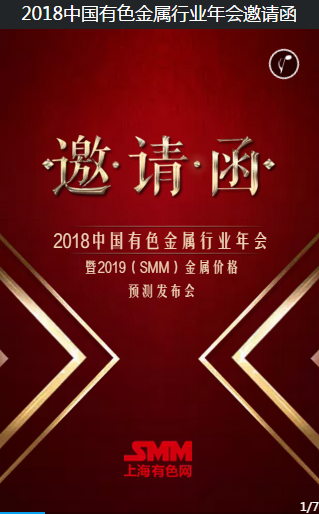 "Click to enter the registration channel