SMM, Oct. 10: Chinese demand for copper has been so strong in the past few months that Codelco has sold out copper supplies for next year ahead of schedule, according to the chairman of Chilean state-owned Codelco.
"demand is very strong, not just in China. Juan Benavides (Juan Benavides), who took over as chairman of Codelco in May, said in an interview in London. Overall prices have fallen 15 per cent this year amid fears that a trade war between China and the US would stifle global economic growth.
"the trade war is not good at all, but demand is still strong, inventories are low and supply is not growing as fast as demand," he said. He expects prices to exceed $3 a pound ($6612 a tonne) as demand exceeds supply. Futures on the London Metal Exchange traded at about $6218 a tonne on Tuesday.
Confidence in copper is growing among mining companies and investors as a result of limited copper supplies and falling global inventories. Codelco has signed cathode copper supply contracts with some European buyers, rising to $98 a tonne, the highest level since 2015. Contract premiums with Chinese and US customers have also risen 15-17 per cent this year.
Roberto Ecclefield, vice president of Codelco, said sales this year were "surprisingly good." "this is the first time you have seen China, the United States and Europe performing strongly at the same time, which has been unique in many years.
In June, Nelson Pizarro (Nelson Pizarro), the company's chief executive, announced that the company would press ahead with negotiations on supply contracts. Traditionally, supply contracts begin from October to November. Ecclefield said the miner's annual sales activities were "almost complete" and were expected to be completed in the coming weeks.
"We have received letters from our colleagues. In some places, they say: look, there is no copper on the market to meet all the demand, "Benavides said." "We see very low inventories."
Benavides said Codelco planned to maintain annual production at 1.7 million tons. But with its century-long years of operation and declining ore grades, the company needs to invest billions of dollars in so-called structural projects to upgrade mines and avoid falling production.
Benavides said the company plans to invest nearly $40 billion over the next seven years.
But he added that BHP would seek to cut some unnecessary investment and could cut spending plans by $500m and $1 billion a year. China has limited capital expenditure to $4 billion a year, he said.
Rising copper prices and rising demand mean Codelco can fund its ambitious spending plans, but that's not enough, Mr. Benavides said. He said the company could issue up to $1 billion in new bonds next year.
The government of President Pinera (Sebastian Pinera) approved a $1 billion financing plan by February. After that, the Codelco will need to negotiate additional funding with the government, which will implement austerity programs at all agencies and listed companies with a view to saving $1.2 billion a year over the next four years.
Pay attention to the trend of metal prices in 2019:
What will be the balance between supply and demand in the metal market next year, and how will the price go? Where is the demand growth point? What is the impact of environmental protection? What is the evolution of industry policy? Please pay attention to the "2018 China Nonferrous Metals Annual meeting and 2019 (SMM) Metal Price Forecast Conference" held in Shanghai on October 19, at which there will be famous macroeconomists, executives of well-known enterprises in various industries, and senior analysts of various metal varieties in SMM. For you a comprehensive analysis of the 2019 metal market. At that time, more than 1000 elites and institutions in the industry will gather together, and more than a dozen well-known media at home and abroad will report on the spot.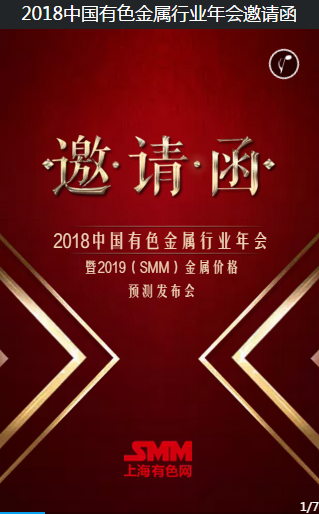 "Click to enter the registration channel