SMM, 26 Sep: customs data show that in August 2018, China exported 29700 tons of alumina, imported 10,000 tons, and exported 19700 tons net. From January to August 2018, the total export volume of alumina was 373300 tons, the total import volume was 380000 tons, and the cumulative net import volume was 6700 tons.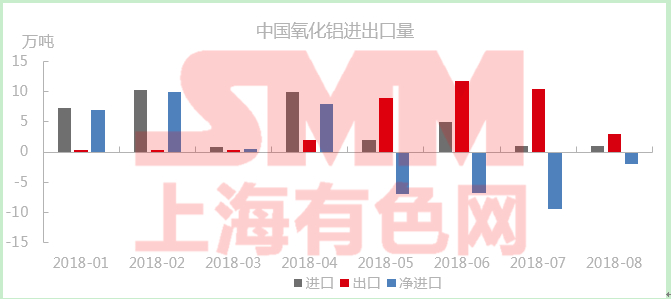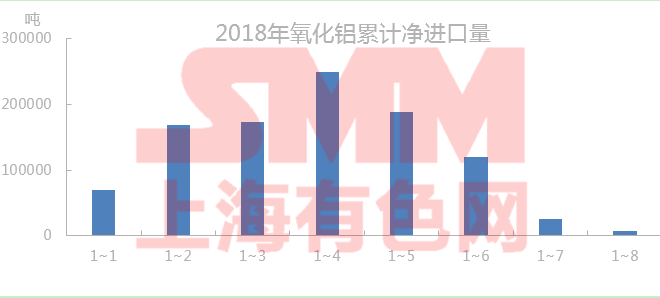 1. There is a certain time difference between the quantity of signing orders and departure from Hong Kong. According to SMM, there is a certain time difference between the contract signed by alumina manufacturers and the delivery time. At present, some of the orders have not been delivered.
2. Port crowding factor. According to SMM, some of the alumina in Guangxi ports are still stranded in the port because of the crowded port factor.
Therefore, it is expected that the number of alumina export signatures in July and August will still be shown in the customs alumina export data in September and October.
On the other hand, the price of alumina FOB in Australia. After reaching a low on June 28, the Australian alumina FOB price began the second round of rising mode in 2018, reaching a high of $640a tonne on Sept. 7, followed by a falling pattern. In particular, it dived directly from $625 to $535 a tonne in the last week, a staggering 14.4 per cent drop.
From the change of foreign price trend, it can be seen that foreign aluminum enterprises stock alumina for the fourth quarter in July and August, resulting in a sharp rise in foreign alumina prices, thus promoting a great increase in domestic alumina exports, but with the end of the stock, Alumina exports fell sharply in September, so it can be verified that more of the customs alumina export data for September will come from the signing of orders in July and August.
(SMM Luo Qiaoling 021 51666863)