In June 1914, in the summer of southern Europe, although the wind was very warm, there was a smell of hatred in the air.
Sarajevo, the capital of Bosnia, is crowded with people, and the streets are lined with passers-by.
Archduke Franz Ferdinand, Crown Prince of Austria-Hungary, is here for a special visit with his wife Sophia. His eyes were full of people with flowers in their hands, and what he heard were cheers one after another. Perhaps the present occasion made him forget for a while that the land had been annexed by the Austro-Hungarian Empire in 1908.
Suddenly, the crowd was pushed away by a force, and a young Serbian rushed into the street, piercing Ferdinand's neck and his wife's abdomen, and two streams of blood gushed out.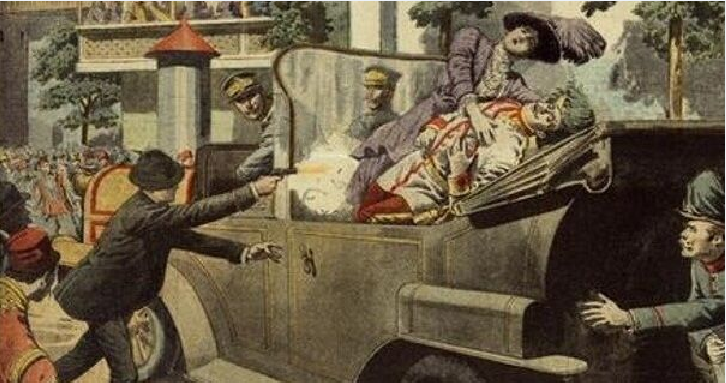 A month later, the Austro-Hungarian Empire declared war like Serbia, opening the prelude to a world war that engulfed 30 million lives.
Human history is wonderful. When greed and killing take the upper hand and trample on life, the innovation of human science and technology often presents a blowout breakthrough. At that time, Henry Bradley, a British scientist, was commissioned by the military headquarters of the British Government to study the improvement of weapons, specializing in the problem of extremely easy rifling wear and tear of weapons. However, the accidental collision discovered a kind of wear-resistant alloy steel, stainless steel, which became popular all over the world in the future.
Henry Bradley, father of stainless steel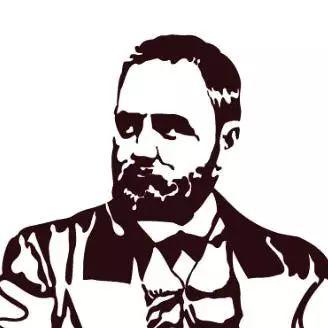 The emergence of nickel pig iron in China stems from the blowout of stainless steel demand
In the most basic knowledge of nickel industry chain, we all know that the downstream of primary nickel is divided into stainless steel, alloy casting, battery, electroplating and other four plates. Ferronickel is the main raw material for the manufacture of stainless steel. The background of the birth of Chinese nickel pig iron is indeed inextricably linked to the demand for stainless steel.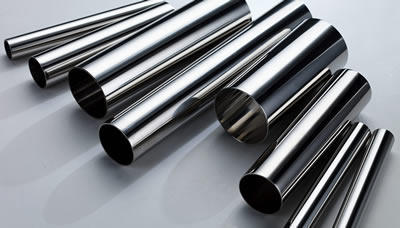 According to industry statistics, the output of crude stainless steel in China increased from 520000 tons in 2000 to 16.08 million tons in 2012, accounting for almost half of the world's stainless steel production. According to the Commerce Department, 81% of China's nickel was used to produce stainless steel in 2011, and globally, China's stainless steel industry accounted for 65% of global nickel consumption.
With China's demand for stainless steel blowout, international refined nickel prices peaked in the first half of 2007. This brings a heavy cost burden to stainless steel enterprises. Nor does supply seem to keep pace with Chinese demand. At that time, most of the nickel was produced in sulphide deposits in Canada and Russia, and the reserves of these deposits were gradually consumed. As a result, Chinese industry practitioners have to find a way. Otherwise, the huge demand for stainless steel will be stuck in the throat.
But the resource bottleneck forced China to innovate in the global allocation of resources and kept global nickel prices low for years-nickel pig iron began to make its debut.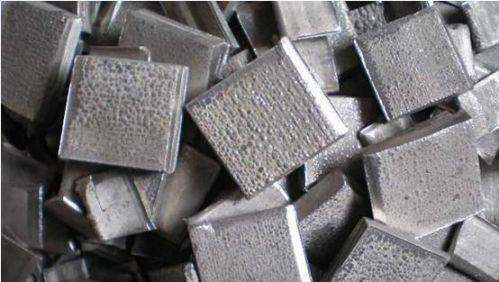 The way China used at the time was to extract enough raw materials from a variety called nickel laterite. Although this kind of mine has low grade, but it has a lot of reserves, it was once the object of "aversion", and those with low nickel content were thrown away directly. In fact, a substance called ferronickel (containing nickel pig iron) can be extracted from it, which can be used to produce stainless steel. In 2006, Chinese companies began to do so. At first, people get products with very low nickel content, which can only be used to produce less demanding civil stainless steel. Moreover, the method of production is high pollution, high energy consumption, small enterprises rush. However, with the development of technology, ferronickel production has undergone two more technological innovations, the latest technology, if strictly implemented, can be considered energy saving and environmental protection, lower input and higher output. The produced ferronickel is of high quality and can be used in the production of industrial stainless steel.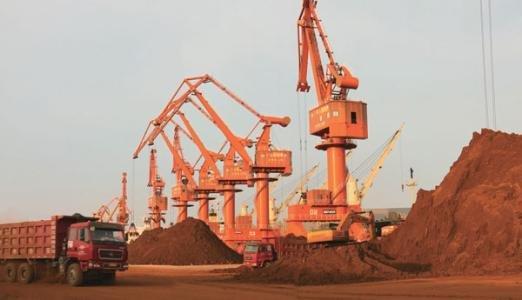 It is an obvious fact that a large amount of ferronickel made in China has met the demand for stainless steel production over the years, and there has even been overcapacity. The international nickel price, which had been on a roller coaster ride, soared from less than $10, 000 a tonne before 2007 to more than $50, 000 a tonne in 2007, and quickly fell back to less than $14000 a tonne.
Detailed explanation of production process of nickel pig iron
In the long article of nickel industry chain released earlier, it has been mentioned that the fire production process of ferronickel is mainly divided into RKEF process, rotary kiln direct reduction process, and blast furnace smelting process. But in fact, the production process of ferronickel is also diverse and complicated. Here, let's go a little further.
The Technology of first Mine heating Furnace in Rotary Kiln (referred to as RKEF)
technological process
The production of ferronickel by RKEF process is a rapidly developing laterite nickel ore treatment process at present. The process is mature, the equipment is simple and easy to control, and the production efficiency is high. The deficiency is that it needs to consume a lot of metallurgical coke and electric energy, high energy consumption, high production cost, too much slag in the smelting process, high smelting temperature (about 1500 ℃), dust pollution and so on. Moreover, the grade of nickel in the ore has a great influence on the production cost of the fire process. When the nickel grade of the ore decreases by 0.1%, the production cost increases by about 3% to 4%.
The technological process of RKEF is as follows: ore batching-rotary kiln drying-rotary kiln roasting-furnace smelting crude nickel-iron-LF furnace refining (or mechanical stirring desulfurization)-refined nickel-iron water quenching-producing qualified nickel-iron particles.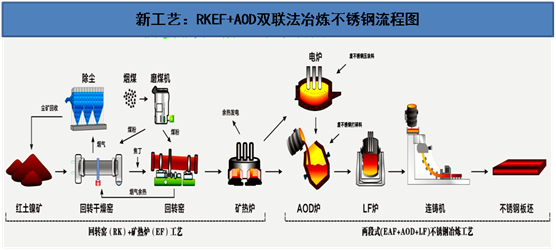 Origin of RKEF process
The RKEF process Vale do Rio Doce of Brazil started the construction of the Okapuma (OncaPuma) ferronickel project in the state of (PARA) in August 2006, which uses the RKEF process to treat laterite nickel ore to produce ferronickel, designed by Demak. The project is equipped with two Φ 4.6x45m drying kilns, two Φ 6 × 135m rotary kilns and two 120000 kVA rectangular ore heaters (currently the largest power in the world), with an annual output of 220000 tons of alloy and 52000 tons of nickel.
Development of RKEF in China
The treatment of laterite nickel ore by RKEF process in China has also developed to a large scale in recent years. Fu'an Dingxin Ni-Fe Company, invested by Qingshan Group, is designed by China Enfei Engineering Technology Co., Ltd. The project adopts 2 Φ 5 × 40 m drying kilns, 4 Φ 4.8 × 100 m rotary kilns and 4 33000 KVA round ore heaters with an annual output of 20 000 tons of nickel.
The two lines were put into production in June 2010. so far, the production is stable, the index is good, and the cost is the lowest in China. It is the earliest example of RKEF process for producing ferronickel by large rectangular hot electric furnace in China.
The company has also built two 60000 kVA circular electric furnaces in Yangjiang, Guangdong Province, which have been put into production. This process is suitable for the treatment of magnesia silicate laterite type A and intermediate laterite ores C1 and C2. And Ni grade > 1.6%, preferably 1.8%, which is conducive to saving production costs.
One magnetic separation of rotary kiln
The rotary kiln-magnetic separation process is also known as the direct reduction process. At present, only the Dajiangshan smelter of the Japanese Metallurgical Company is using this process in the world.
The main technological process is the mixing of raw ore grinding and pulverized coal to produce pellets, which are dried and roasted at high temperature in rotary kiln, calcined and reground, and the Ni-Fe alloy products are obtained by gravity separation and magnetic separation of pulp. This product is suitable for AOD steelmaking process no matter how high sulfur content is, because AOD process has good desulphurization ability.
This process is recognized as the most economical method to deal with laterite nickel ore at present. Its biggest characteristic is that the production cost is low, 85% of the energy consumption is provided by coal, and 160 / 180 kg of coal is consumed per ton of coal. On the other hand, more than 80% of the energy consumption of electric furnace smelting Ni-Fe process is provided by electric energy, and the power consumption per ton of ore is 560600 kwh.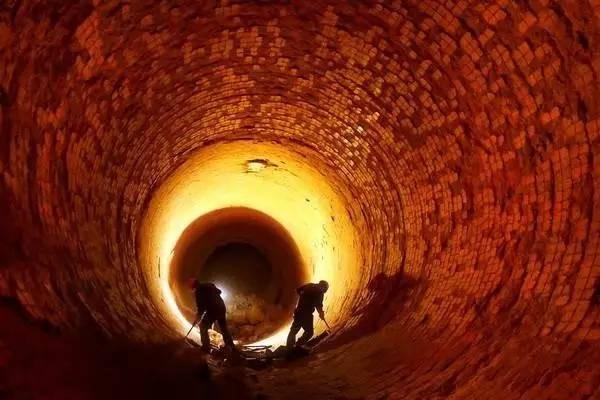 Technological characteristics
However, the main problem existing in this process is the ring formation and recovery rate of the rotary kiln. Although the Dajiangshan smelter has been improved many times, the process technology is still not stable enough, and its production scale is still about 10,000 tons of nickel per year after several decades. The key technology of this process is the temperature control of pulverized coal and ore mixing and reduction roasting process.
This process is suitable for the treatment of magnesia silicate laterite type A, the nickel grade of the original ore is 0.7 to 1.2%, and the iron content is 8 to 11%.
Development of Magnetic Separation in Rotary kilns in China
In recent years, there have been many studies on the process of direct reduction of laterite nickel ore by rotary kiln in China, such as: Shanghai Qichang stainless Steel Company designed by Ganghe Company uses this process to produce nickel concentrate in Nantong, Jiangsu Province; Xiao Junhui of Kunming University of Science and Technology invented "a method of direct reduction of nickel and iron from nickel silicate ore rotary kiln"; Shanxi Changzhi Lucheng Hongxiang Chemical Metallurgical Plant built 2.2 × 45 m rotary kiln to directly reduce nickel and iron, with an annual output of 4000 tons of nickel and iron project, etc. These trial production plants are either too high production costs or difficult to operate, can not be large-scale production, many are just stopped in the theoretical research stage, there is no industrial production. Therefore, the rotary kiln-magnetic separation process still needs to be constantly explored and pushed forward.
Rotating hearth furnace + melting furnace
The utility model relates to a new method of smelting laterite nickel ore by a rotary hearth furnace using coal to make gas or natural gas as fuel, non-coking coal as reducing agent and laterite nickel ore as raw material. The smelting method of producing ferronickel by rotary hearth furnace and reductive melting furnace.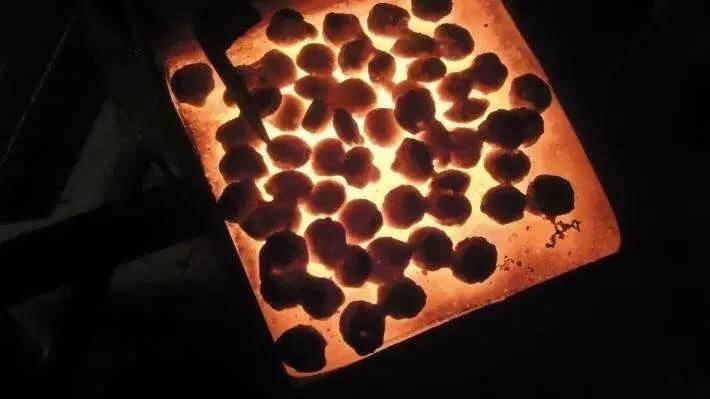 Technological characteristics
The content of nickel in the raw material of laterite nickel ore is 0.8% 3.0%, and the proportion of laterite nickel ore, reductant and flux is 100 8 15 15. The smelting method has the advantages of short technological process, simple operation, easy control, strong raw material adaptability, low energy consumption, high fuel heat price ratio, less pollution, less equipment investment, low production cost and high nickel recovery rate. It is most suitable to invest and build plants in areas where power resources are scarce and coal resources are abundant.
This process is suitable for the treatment of magnesia silicate type laterite type A and medium type laterite ores C1 and C2. The grade of Ni is 0.8% and 3.0%, and the content of iron is 15% and 20%.
Technical Development of rotating bottom Furnace and melting Furnace in China
At present, most of the spongy iron is produced by rotary hearth furnace directly reducing iron ore or metallurgical dust (mud). The products are used in blast furnace or steelmaking converter raw material, but there is no application example in the treatment of nickel laterite to produce nickel iron.
The main reason is that the thermal efficiency of the rotary hearth furnace is low, the raw materials must be fine ground and pelletized, and the raw ball must be dried, and the strength and moisture content of the ball are very important to the operation stability of the rotary hearth furnace. at the same time, in terms of investment and production cost, Compared with the mature RKEF process, this technology has no obvious advantages. Therefore, it is necessary to further study the critical control points of the rotary hearth furnace, realize the one-step process of producing bead nickel iron, and reflect the advantages of the rotary hearth furnace.
Reduction vulcanization smelting nickel matte
technological process
The technological process of reductive sulfidation smelting nickel matte is as follows: laterite nickel ore-drying-crushing and screening-vulcanization smelting-low nickel sulfur-converter blowing-high nickel sulfur.
Technological characteristics
The advantage of the process of producing nickel matte from laterite nickel ore by sulphide smelting is that the process is mature and easy to operate, and its product high nickel matte has great flexibility and can be further treated to produce various forms of nickel products.
The process of sulphide smelting to produce nickel matte was first used to deal with laterite nickel ore, and it was applied as early as 1920s and 1930s. Soroako, Indonesia, Ehrman SLN, New Caledonia, et al.
Others use a combination of wet and fire processes to produce nickel oxide or nickel matte (high ice nickel), For example, the process is used in Maua, Cuba, Coral Bay of the Philippines, Tagantinto, Goro of New Caledonia, Vermeiu of Brazil and Anbatowi of Madagascar. Cuba Nigaro and Che. Guevara, China Yuanjiang Ni Industry and Qinghai Ping an adopt leaching-reduction roasting to produce sintered nickel oxide or nickel salt. Mitsui and Sumitomo joint venture Philippine Coral Bay Project is the most economical project. The nickel content of nickel matte produced by nickel oxide ore in the world is about 15000 tons.
This process is suitable for the treatment of magnesia silicate laterite type A and intermediate laterite ores C1 and C2. It can be used to deal with laterite ores with low nickel content.
Development of reductive sulphide smelting nickel matte process in China
At present, Chaoyang Haotian Group uses this process to produce low nickel matte, the nickel grade of low nickel matte product is 5 to 8%, and the recovery rate of nickel metal is more than 90%.
Sintering-blast furnace reduction smelting
The technological process of blast furnace reduction smelting is laterite ore-dehydration sintering pelletizing-adding coke flux-blast furnace smelting crude ferronickel-refining-ferronickel.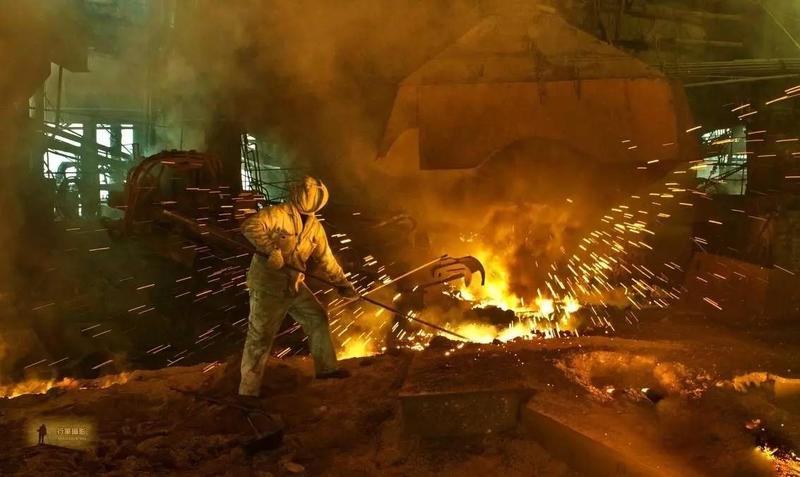 Technological characteristics
This process is suitable for the treatment of limonite type B laterite ore, Fe > 30 to 40%.
Development of reduction smelting process for blast furnace in China
Sintering-blast furnace reduction smelting process is a laterite smelting process developed in China in recent years. With the adjustment of national industrial policy, a large number of ironmaking blast furnaces below 500m have been eliminated. However, due to the shortage of nickel for stainless steel in China, the large import of nickel laterite, and the local government's efforts to solve the problem of employment and create taxes, these eliminated blast furnaces are used in the treatment of nickel laterite to produce ferronickel containing 3 to 5 per cent nickel.
At present, the smelting of ferronickel in small blast furnace is facing policy elimination, and the smelting efficiency of 6. 8% of ferronickel in large blast furnace is low. Coke price affects the cost of blast furnace nickel and iron, resulting in slow progress in smelting nickel and iron in blast furnace, and the thinning of profits will inevitably dampen the enthusiasm of domestic blast furnace nickel and iron producers.
From the technical point of view, the sintering-blast furnace reduction smelting process has some shortcomings, such as low utilization rate of blast furnace volume, large coke consumption, serious sintering pollution, high phosphorus content of nickel pig iron, low nickel recovery and so on.
Electrosilicothermic method
The production of ferronickel at the Lido (Riddle) smelter, which is owned by Hanna (Hanna) Mining Co., Ltd., is mainly produced by electrosilicothermic method. Due to the high price of ferrosilicon and high power consumption, the plant stopped production after the 1990s.
The nickel oxide ore from the nearby mine is dried and screened, and the hard olivine with low nickel content (Ni about 0.65%) is removed. In actual use, the ore contains Nn1.6~1.7%,Fe10~15%,SiO245~58%,MgO24~32%,Cr0.8~1.2%,A12O3l~3%, burning loss of 6 to 8%, and the ore is in a rotary kiln with a diameter of 3 m and a length of 80 m. Heat it up to 650 to 700 ℃ with hot gas. When the residence time in the kiln is about 1.5 hours, all the attached water and 60% to 70% of the bound water can be removed. Each rotary kiln processes 45 to 50 tons of ore per hour. The hot ore melts in the 14000kVA furnace.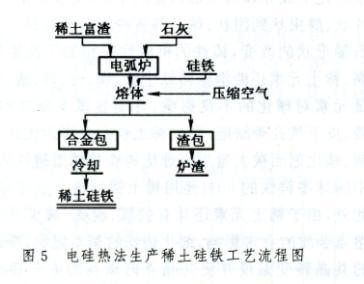 About 11 tons of ore melt is released from the electric furnace in the reaction package, the reaction package is placed on one side of the slag bag mixer, and a package containing 9 to 14 tons of molten crude nickel and iron is placed on the other side. Raise the package containing molten crude nickel iron, quickly pour the crude nickel iron into the package containing mineral melt, and add ferrosilicon (45%Si) at the same time; empty package falls, extract the bag containing reactants, and quickly pour into the empty package. Pour from one bag into another bag over and over again; the bag containing the reactant is calmed for 3 hours, causing the metal particles to drop. Then lift the bag and put the slag in the slag bag next to it.
Technological characteristics
Each reaction cycle is 15 to 16 minutes, and the yield of nickel and iron is about 400kg. When the weight of nickel-iron in the package exceeds 12.7 and 13.6t, a part of the crude nickel-iron is sent to 2500kVA three-phase furnace for refining. The refining furnace is divided into two loads and a total of 3.6 t / 4.1 t crude nickel and iron is loaded.
In the refining process, iron ore and lime are added to dephosphorize, and then lime and fluorite are added to make slag. After the furnace temperature is reached, ferrosilicon is added to deoxidize. The outlet temperature is about 1482 ℃. Use a casting machine to make ingots with heavy 15kg. The composition of refined nickel-iron is as follows: the recovery rate of Ni48.5%,Co0.5%,S0.005%,P0.01%,C0.02%,Cr0.02%,Si0.9%; nickel is 90%, and the power consumption is 62.7kw h / kg. The recovery rate of Si0.9%; nickel is 90%, and the power consumption is 62.7kw h / kg.
Krupp-Lunen method
technological process
Krupp-Len method is the application of the method of producing granular iron to the production of nickel iron.
Using silicon-magnesium-nickel ore (containing about 10% moisture of Ni+Co2.7~3.5%,Fe2O316~20%,SiO238~45%,MgO20~25%,A12O30.5~2.1%,) as raw material, reducing agent using anthracite (fixed carbon about 80%, S0.24% and 0.51%), P about 0.02%), lime and sand as flux.
The nickel oxide ore was added to the appropriate flux and coal, crushed, mixed and loaded into the rotary kiln for fusion reduction roasting. Most nickel and a certain amount of iron are reduced to spongy metals. Put it in the sink to make the slag brittle. The slag and metal are separated by ball mill, and then the metal is selected by magnetic separation to obtain granular ferronickel.
The ingredient is Ni+Co22%,S0.25%,P0.08%,C0.5%,Si0.1%. Then melted in the electric furnace, remove impurities, refined nickel-iron composition: Ni+Co26%,S0.03%,P0.03%,C0.15%,Cr0.1%,Si0.01% and Cu0.1%; nickel recovery of about 90%.
VIII. Blast furnace method
The main purpose of this paper is to preheat and dry the nickel oxide ore in the rotary kiln and make the lump, which is added to the blast furnace together with the coke block. Crude nickel iron is produced. High carbon ferronickel was prepared by desulphurization with soda. Its components are Ni+Co20%,S0.05%,P0.03%,C3%,Cr and Si2%. If you need to produce low-carbon ferronickel, you can reuse converter refining.
IX. Blast furnace method
The process of producing ferronickel in blast furnace is mainly as follows: ore drying screening (bulk crushing)-burden-sinter plus coke block and flux (quartz stone) into blast furnace smelting-nickel molten iron ingot and slag water quenching-output Nickel iron ingots and water quenched slag.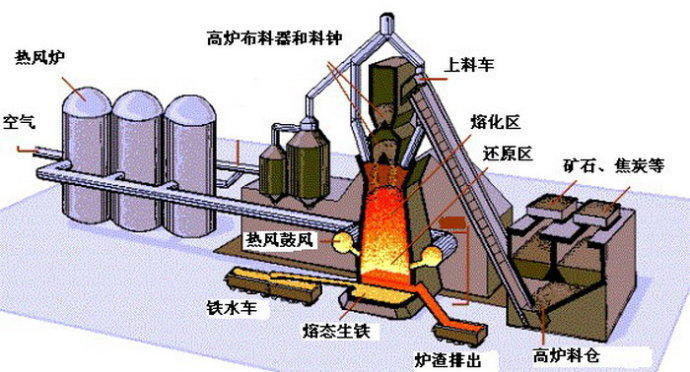 Development of blast Furnace process in China
There are many low nickel iron produced by blast furnace in China. The raw materials used are laterite nickel ore with iron content of about 50% and nickel content of about 1%, and low nickel pig iron with nickel content of about 2%. Usually, the coke ratio of pig iron is about 0.5 (500Kg coke / ton pig iron), and the coke ratio of above ferronickel is about 0.8 (800Kg coke / ton ferronickel).
Compared with electric furnace, blast furnace pollution (fluoride) is serious, energy consumption is high, small blast furnace (below 300M3) has been gradually eliminated in recent years.
Development status of ferronickel in China
Quantity and regional distribution
At present, the total number of nickel and iron production enterprises in China is more than 150, mainly in Shandong, Jiangsu and Inner Mongolia, of which blast furnace manufacturers are the main ones in Shandong. At the same time, although the number of electric furnace manufacturers is small, the scale is relatively large. At the same time, there are also a certain number of blast furnace enterprises in Shanxi, Jiangsu, Henan and other places, while Inner Mongolia and Ningxia are basically ore heating furnace enterprises, mainly smelting 10 to 15 nickel high nickel iron. Among them, the number of enterprises in production in Inner Mongolia is large, but the production capacity is small. Although the number of enterprises in Ningxia is small, the production capacity of two enterprises is more than 4000 tons.
Construction of Ni-Fe project
From the point of view of the construction of nickel-iron projects, there are two obvious trends. First, stainless steel plants are building more and more nickel-iron projects themselves. Such as Qingpu alloy of Qingshan holding and Posco joint venture of Korea, Desheng nickel industry of Fujian Wu hang, Zhongbaobin nickel industry of Baosteel and Sinosteel joint venture, etc. Second, there has been a significant increase in the production capacity of ferronickel under construction and proposed, such as the Hengxin nickel industry in Qinzhou, Guangxi, and the proposed Shanxiping Lu Changsheng. In addition, Shandong, Jiangsu and other places in many manufacturers are also actively planning to expand production capacity, the formation of scale advantages. Qingshan Group, Jiangsu Delong and Shandong Xinhai are the three largest nickel and iron smelting enterprises in China, and Qingshan Group and Jiangsu Delong are also the first enterprises to enter Indonesia to build smelters.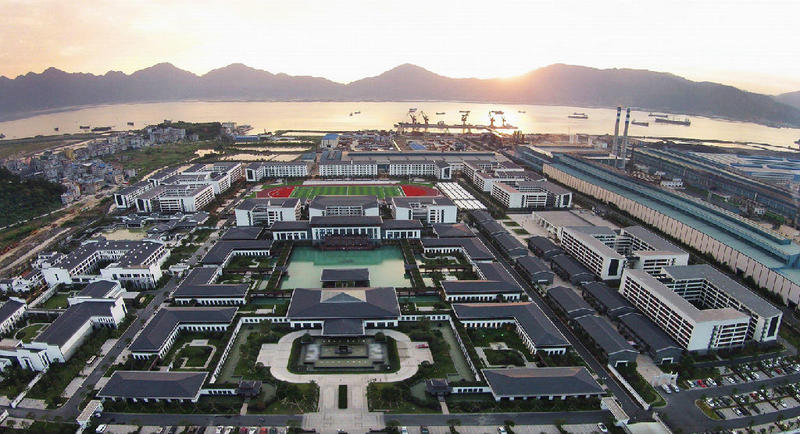 Development status of ferronickel in Indonesia
Ban on mining and change the pattern of industry
The global nickel supply and demand pattern has changed dramatically since the Indonesian raw ore export ban, which began on January 12, 2014. The Indonesian government's original intention of banning mining was to enhance the added value of nickel ore. The same weight of laterite nickel ore, processed into ferronickel, can increase the economic value by about four times. Moreover, through local processing and smelting, it can also provide jobs, boost the local economy, increase local taxes and other economic benefits, so the Indonesian government has provided a series of preferential measures to attract foreign investment to build factories.
China's annual production capacity of ferronickel reached a peak of 1.31 million tons in 2014, followed by a painful shuffling period. Due to the gradual deterioration of the competitive environment of overcapacity: with the reduction of laterite nickel mine supply and price upside down, the general loss of the industry, the increasingly stringent environmental protection policy, domestic nickel and iron enterprises centralized production and maintenance, enterprise development is difficult. In order to obtain better economic benefits and transformation opportunities, the leading enterprises in the domestic nickel iron industry have accelerated the pace of investment and construction of nickel iron plants in Indonesia. For example, Qingshan Group, Jiangsu Delong and so on, first established their feet in Indonesia. Therefore, there has been a process of transfer of ferronickel from China to Indonesia, followed by a substantial increase in imports of ferronickel from foreign countries. According to customs data, 1.04 million tons (104,000 metal tons) of nickel and iron were imported in 2016, an increase of 59 per cent over the same period last year.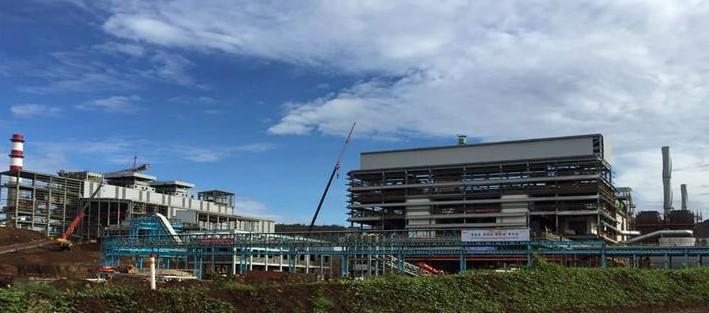 Status of Ni-Fe Project in Indonesia
Production projects of Chinese Enterprises
Just take the RKEF and ore heaters put into production in China as an example. At present, part of the iron has been produced in the third phase of Qingshan, and it is expected that all 20 lines will be put into production this year. Delong is building 15 lines, three new cast pipe lines have been put into production, four lines in Yinhai Wanxiang, and four lines in Xinhualian. Jinchuan 4 lines, Huadi 2 lines. It is expected that within 1 to 3 years, the mainstream production capacity of ferronickel in Indonesia will reach the production capacity of nearly 56 sets of RKEF or similar processes, such as 33000 KVA ore heaters. Indonesia's new ferronickel will reach a capacity of about 4.2 million tons of ferronickel (420,000 metal tons), more than the effective annual production of domestic ferronickel (380,000 metal tons produced in 2016). Before the subsequent stainless steel project in Indonesia is fully operational, most of the ferronickel products will be shipped to China, which will accelerate the domestic nickel-iron surplus pattern and put invisible pressure on nickel prices.
Indonesian and overseas enterprises put into production projects
ANTAM, an Indonesian state-owned enterprise, and Vale, a foreign company, are also increasing investment in nickel-iron projects. From the information of listed companies, it can be seen that Vale plans to spend US $2 billion on the Pomalaa smelter project, while at the same time actively looking for partners to develop the Bahadopi smelter project. As can be seen from Table 3, ferronickel capacity will grow explosively by 123 per cent and 65 per cent in 2017 and 2018. This only superimposed the production capacity of two large enterprises in Indonesia. According to the planned capacity forecast of the smelter of the Indonesian Ministry of Energy and Mineral Resources in 2015, the production capacity of all nickel and iron enterprises in Indonesia is quite amazing. Planned production capacity increased by nearly 400% in 2017 compared with the same period last year, and reached its peak in 2018.
(process of production of ferronickel project in Indonesia as of April 2017)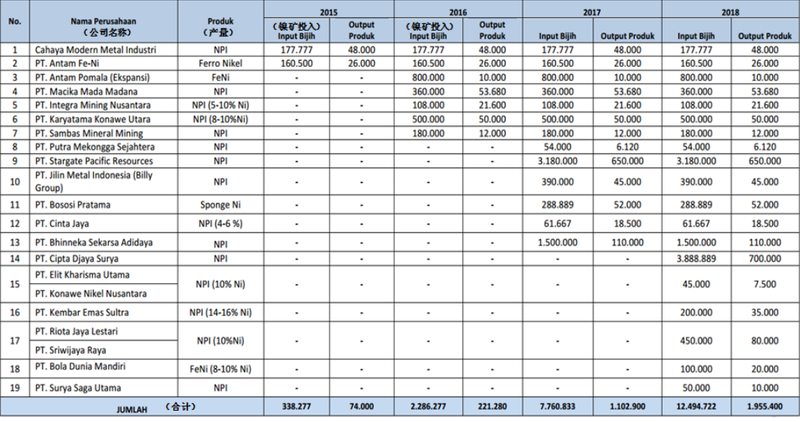 (input-output plan for local nickel smelters in Indonesia from 2015 to 2018)
Prospects for the Future of Ni-Fe in China and Indonesia
Future Development of Ni-Fe in China
Considerable profits of ferronickel the re-inflow of Indonesian nickel ore into China is expected to increase domestic ferronickel production to 450000 nickel metal tons in 2018
The loss from the end of 2016 to the second quarter of 2017 was mainly due to the rainy season at the upper end of the nickel mine in the Philippines, aggravating the tension in the domestic nickel mine, while the downstream stainless steel plant was also losing money, resulting in reduced demand for ferronickel for production reduction or even suspension of production and maintenance. On the price side, the price of electrolytic nickel is in a state of sharp decline, pulling down the price of ferronickel. Looking forward, the core factor contributing to the loss from the third quarter of 2015 to the first quarter of 2016 is the remarkable effect of the ban on mining in Indonesia, where almost no nickel ore is exported to China, resulting in a very shortage of nickel ore resources. Downstream stainless steel plants also crack down on nickel-iron prices.
The profit of domestic ferronickel smelting has changed from loss to profit since the third quarter of 2017, and has continued until now. At present, the average profit level of the ferronickel industry is 150 yuan / nickel point (that is, the profit per ton of nickel metal is 15000 yuan). The profit level of a large ferronickel plant with good cost control may have reached 250 yuan / nickel point, and the best time for ferronickel profit was from 2011 to 2012, when the average profit per nickel point in the industry was 200 to 300 yuan. The profit cycle of this round of ferronickel is longer than in the past, the profit level is higher, and it is expected to be sustainable, mainly due to the resumption of exports of Indonesian nickel mines from the upstream nickel mine end in the second quarter of 2017, effectively alleviating the shortage of raw materials. Nickel prices are also out of the upward trend.
In 2018, considering the good profit and continuity of ferronickel smelting in China, the opening rate of the factory increased. At the same time, the Indonesian nickel ore will gradually enter the country, and its high-grade ore will replace some of the original low-grade Filipino ore, and the grade of nickel and iron will gradually rise from 8.5% to 9% to 10%. Nickel-iron metal production is expected to rise from 420,000 metal tons in 2017 to 450,000 metal tons.
Domestic environmental protection continuous high pressure ferronickel production may be difficult to expand on a large scale
Under the trend that the profit of the nickel-iron industry continues to be good, the resumption of production and new production are also the most concerned hot spots in the market. However, at present, the mainstream ferronickel smelting process, even the relatively good RKEF process, still needs to consume a lot of metallurgical coke and electric energy in the process of ferronickel smelting, high energy consumption, excessive slag in the smelting process, dust pollution and so on.
To be exact, the peak period of ferronickel in China has passed. In 2012, there were more than 300 domestic ferronickel smelting enterprises. After the industry lost money and reshuffled, the enterprises of the small blast furnace production process were basically shut down, and the new production capacity was very small. And mainly concentrated in the leading enterprises.
The main factors that limit the increase of nickel and iron production in China are the continuous high-pressure environmental protection in China. In May this year, the shutdown of environmental protection broke out in Inner Mongolia, Shandong, Dannan and other places one after another.
Prospects for the Development of ferronickel in Indonesia in the Future
Indonesian Ni-Fe production blowout can be achieved by 2020
2017 to 2020 is the blowout period for the production of ferronickel in Indonesia. Although the gradual transfer of nickel and iron production from China to Indonesia has led to a decline in domestic production, due to the high base output, the production of Indonesian NPI is superimposed. In the future, there will be great pressure on the global supply of nickel and iron.
Indonesia's total nickel production will rise sharply to 363000 tons in 2017, according to estimates from the Indonesian smelting Joint Organization. As a result, Indonesia, as a new force in nickel supply, its rise has brought a lot of uncertainty to the future nickel supply.
Stainless steel put into production to put pressure on digested ferronickel
It will also be an inevitable trend for Indonesian ferronickel to further extend to stainless steel downstream of the industrial chain.
Indonesia was originally a small country that exported nickel ore resources, and its steel industry was weak. The annual production capacity of the largest iron and steel enterprise, Kagang, was only about 3 million tons, while the annual production capacity of Qingshan stainless steel in Indonesia was 3 million tons. Since then, it has changed the pattern of Indonesian iron and steel industry.
For China, with the formation of Indonesia's stainless steel industry chain, most of the local ferronickel will be digested locally, so Indonesia's ferronickel reflux country will be greatly reduced, and the domestic supply contradiction in China may be improved. Taking a large domestic group A as an example, after the stainless steel project of Group A is put into production, the amount of nickel pig iron shipped back to China will be reduced by about 65000 tons / month. If we refer to the production speed of stainless steel in Group A and the production cycle of the nickel-iron industry, it will still take 3 to 5 years for other stainless steel enterprises to go into production, which means that it will still take a long time for Indonesia to form a mature stainless steel industry chain.
If Indonesia forms a mature production chain of nickel ore, nickel iron and stainless steel, the impact of the concentration of Indonesian nickel iron will be lighter than that of Hong Mao. However, in the past two years, ferronickel products are still concentrated in China, so the large-scale release of ferronickel production capacity is the main contradiction of nickel price pressure.
Summary
With the rapid development of stainless steel industry in China, the disadvantage of poor nickel resources in China will be further exposed. China's booming stainless steel industry must face these two problems: first, the pricing power of nickel market is not in our country at present. The domestic spot nickel price basically fluctuates with LME nickel; Second, the gradual reduction of global nickel sulfide ore resources and the increase in mining difficulty are bound to push up the cost of electrolytic nickel production, stainless steel smelting costs will inevitably rise.
Ferronickel originally appeared as a substitute for electrolytic nickel. After the "baptism" of the financial turmoil in 2008, in the face of the continued development of China's stainless steel industry and the sharp reduction of global nickel sulphide ore resources, Ferronickel is undoubtedly ushering in an opportunity to grow from a simple electrolytic nickel substitute to a leveraged commodity that checks and balances the price of nickel.
Bibliography
1. External articles: Indonesian nickel mine and Chinese nickel pig iron
2. Brief introduction of nickel ore and ferronickel in China.
3. Production process of ferronickel
4. China report Network: the output scale, supply and marketing of ferronickel industry in China and Indonesia in 2018: the overall situation of ferronickel production may be difficult to expand on a large scale is relatively stable (figure)
5. Xinda futures: a special study on nickel-the effect of ore ban and release of nickel-iron production in Indonesia