SMM, 16 Sep: as of 16:00 on the 16th, Typhoon mangosteen is about two hours away from landing in Taishan, Guangdong. It is expected to make landfall from Zhuhai to Wuchuan, Guangdong, from this afternoon to evening, with a landing wind of 14 to 15. Mangosteen will become the strongest typhoon to make landfall in China so far this year. After landing, it will continue to move to the west and north, and the intensity will gradually weaken, affecting Guangxi, Yunnan, Guizhou and other places.
It is expected that from September 16 to 18, there will be heavy to torrential rains in most of South China, Guizhou, eastern and southern Yunnan, and so on. Among them, there are torrential rains in some areas in south-central Guangdong, Hong Kong, Macao, western and south-central Guangxi, northern Hainan Island, south-central Guizhou, southeastern Yunnan, and southwestern Yunnan. The precipitation in the above areas is 100 to 200 mm, and the local precipitation can reach 250 to 400 mm.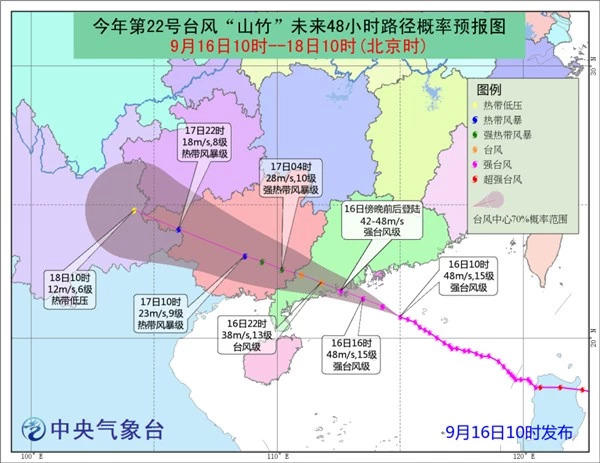 At present, the smelters in Guangdong have begun to actively prepare for the resistance to Taiwan, hoping to minimize the loss of production.
According to the investigation of September 16, from 15 to 15 Yangjiang area nickel iron plant, stainless steel plant all stop production, staff have been withdrawn, stop production time according to the impact of the typhoon.
Since the 16th, the production of electrolytic nickel and nickel sulfate in a nickel smelter in Guangxi has been suspended. Depending on the subsequent impact of the typhoon, the total amount of nickel metal affected is estimated to be about 50 tons.
In addition, a steel mill in Guangxi is on duty to formulate relevant production reduction or shutdown plans to avoid the loss of the company's property.