SMM, Sept. 11: China's exports of aluminum products to the global market remained high in August as U. S. sanctions against Rusal's (United Co Rusal) disrupted the pace of supply in the global aluminum market, and buyers sought alternatives from other producers.
In April, the United States announced sanctions against Rusal. It is understood that China is the world's largest aluminum producer, with more than 50% of the world's aluminum products coming from China, with Russia in second place. Mo Yunjing, senior analyst at s & p's global Platts Asian metals market, has pointed out that on the supply side, Rusal accounts for about 15% to 16% of the world's supply, excluding the Chinese market.
Exports of unwrought aluminum and its products reached 517000 tons, close to the all-time high of 520000 tons in July, according to data released by Chinese customs on Saturday. From June to August this year, China exported more than 1.5 million tons of aluminum, a record high for three months in a row. Meanwhile, exports jumped 15 per cent in the first eight months of this year compared with the same period last year.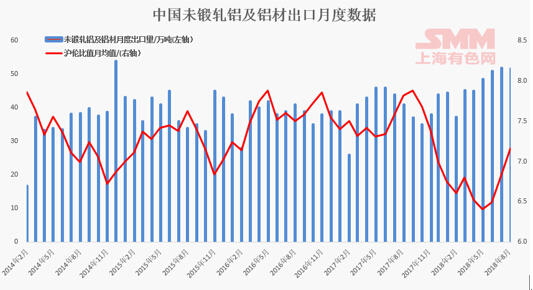 According to SMM analysis, the export of aluminum-related products remained high in August, due to the low RMB exchange rate and Shanghai-London ratio. Orders locked in the early period were declared offshore one after another in August. SMM expects the export volume of primary aluminum to be 3000 tons in August. The export volume of aluminum alloy is 52000 tons, the export volume of aluminum plate, strip and sheet is 264000 tons, the export volume of aluminum foil is 106000 tons, the export volume of aluminum strip, rod and profile is 78000 tons, the export volume of aluminum pipe is 11000 tons, and that of aluminum wire is 3000 tons.
However, according to SMM, aluminum processing companies in August, the month-on-month weakening of new export orders, SMM expects unforged aluminum and aluminum exports in September will continue to decline slightly.