SMM8 24: the 2018 China Nonferrous Metals Industry Annual meeting and 2019 (SMM) Metal Price Forecast Conference will be solemnly opened at Shangri-La Hotel in Pudong, Shanghai on October 19. While continuing the classics of previous annual meetings, this year's annual meeting will be revised to bring more wonderful topics.
At present, the registration work for the annual meeting has been officially launched, and SMM has sent out benefits. From now until September 15, each person can enjoy a preferential activity of 1900 yuan per person to sign up for the annual meeting. Activity time is limited, want to report as soon as possible!

At the meeting, senior analysts of SMM copper, aluminum, lead, zinc, nickel and small metals will analyze and look forward to the metal market. In addition, there are more heavyweights for you in-depth interpretation of the global financial and commodity trading logic.
At the 2018 annual meeting of the non-ferrous metals industry, the following hot topics will be focused:
1. The Federal Reserve continues to tighten the currency, the US economy has reached the end of the expansion cycle, 2019 will be a dangerous year?
2. The follow-up effects of the trade dispute between China and the United States and the escalation of friction between the United States and major economies such as the European Union and Canada.
3. What opportunities, challenges and unknowns will the introduction of the new rules bring to the field of big family products?
4. The role of RMB as an international trading currency and valuation currency is further clarified. What opportunities will the internationalization of RMB bring to the commodity sector?
5, SMM metal price forecast, 2019 non-ferrous metals (copper, aluminum, lead, zinc, nickel, cobalt and lithium) price inventory demand release!
People in the non-ferrous metal industry should not miss a grand event, only to discuss with you the development of the industry!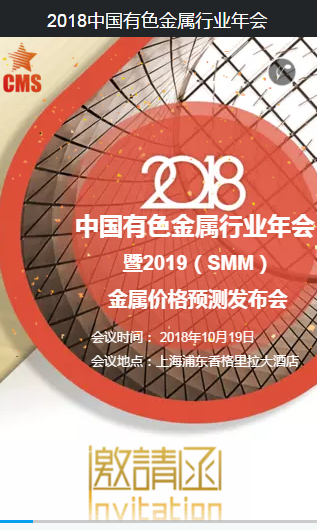 "Click to enter the registration channel
Attendees:
Ms. Ma Qiong
Tel: 021 5159 5818
Fax: 021 51275007
E-mail: kellyma@smm.cn