SMM, 29 July:
In terms of downstream demand, the factory has also entered the rainy season reserve period. However, SMM expects nickel demand to fall 14 per cent in the third quarter from a year earlier, as some factories have not yet returned to normal production and purchases have fallen from normal production. And Indonesia's nickel mine can still ship during the rainy season, and the factory's enthusiasm for preparing goods is not as good as that of the same period last year.
Supply and demand balance and Price trend of medium and High Nickel Ore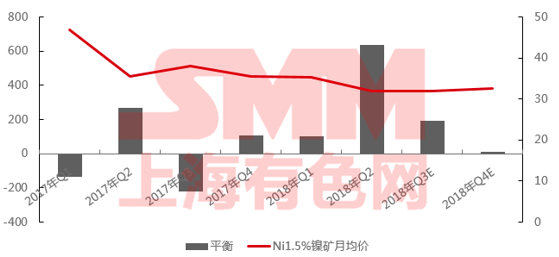 As shown in the figure above, the surplus of medium and high nickel mines was slightly higher in the third quarter than in the second quarter, while the supply and demand side will improve further in the fourth quarter. Because the mainstream cost of FOB for savoring nickel ore in Ni1.5% in the Philippines is 16 × 18 US dollars / wet ton, and the current transaction price of CIF31 US $/ wet ton is close to the cost line of some mines after deducting sea freight, there is little room for downside in the later stage. As a result, SMM believes that the Philippines Ni1.5% taste nickel CIF prices continue to stabilize, near the end of the third quarter or the beginning of the fourth quarter, or low rebound.
For more information, please subscribe to SMM Nickel Research Group products "China Nickel Industry chain General report" and "China Nickel Industry chain High-end report". Obtain the latest nickel ore, nickel pig iron (China + Indonesia), electrolytic nickel, nickel sulfate, stainless steel (China + Indonesia) related data analysis and market analysis! For ordering and trial reading, please call 021 @ 5166 6865 QQ 2880615019, contact: Gao Yin
(Shanghai Colored TEL: 021 @ 51666865 QQ:2880615019)
Tip: SMM has built a question and answer platform has been launched, you have any industry questions can be asked on this platform, there will be professional analysts for you to make a detailed interpretation! "Click to view details