SMM7, July 13: Shanghai copper closed at 49080 yuan / ton on Friday, and closed at 48720 yuan / ton on Friday. Copper fell 0.733% on Friday from Friday.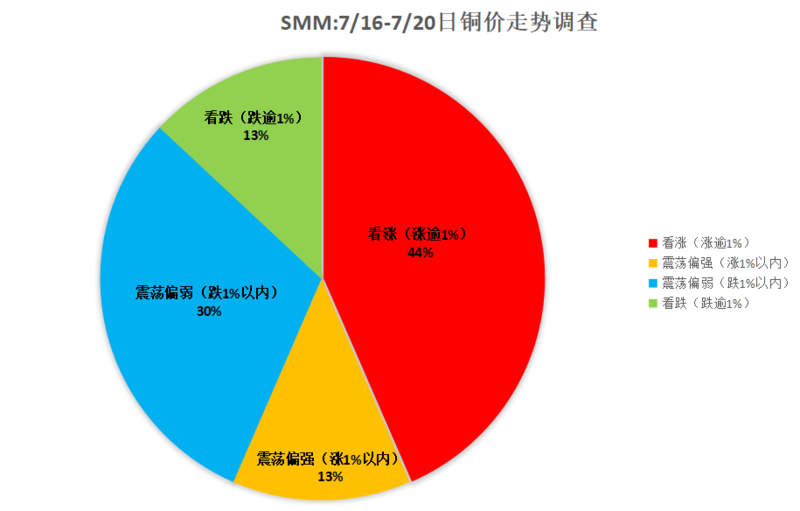 Domestically, next Monday's focus on China's second-quarter GDP data, as well as profit margins for large companies, is expected to remain predictable, the market regained confidence and the renminbi is expected to stabilise. Shanghai Copper fluctuated at 48800 yuan per ton over the weekend, fluctuating less, domestic investors' worries gradually eased, some short sellers made profits, long short-term arbitrage opportunities increased, and copper prices are expected to recover slowly. Copper is expected to run in the range of 48000 yuan per ton ~ 50000 yuan per ton in Shanghai next week.
On the spot side, next Monday will be the last trading day of the Shanghai Copper 1807 contract, and the spot will continue to rise in the current month. Lower replenishment orders rose downstream this week and, more importantly, continued declines in inventories sent SHFE inventories down 23982 tonnes this week. On Tuesday, due to the continued closure of the current import profit window and the limited increment of imported copper, copper prices will stabilize and pick up next week. the downstream is expected to continue to increase the volume of purchases in the market, while the holders will continue to keep their quotations stable and unwilling to expand the discount. Traders will also return to the market, market activity will be higher than this week, trading volume is expected. It is expected that the spot quotation for 1808 contract next week will be 180 yuan ~ 120 yuan per ton.