SMM7 11: by the Sino-US trade war caused by the white-hot risk aversion, the dollar stabilized above the 94 mark, the basic metals under pressure plummeted. Shanghai zinc hit a limit at one point, closing down 5.67 per cent during the day, its biggest decline in more than a year and a half, Shanghai copper down more than 3 per cent, Shanghai lead down 2.63 per cent, Shanghai nickel down more than 2 per cent, Shanghai aluminum down more than 1 per cent and Shanghai tin down nearly 1 per cent. The trend of black system is weak, but most of them float red, thread, hot coil, iron ore rise slightly; coking coal and coke fall slightly. Crude oil futures received a recent boost, closing 1.58 per cent higher at 507.9 yuan a barrel during the day.
The OPEC monthly and EIA inventory Weekly report announced tonight that the latest data from the CPI and PPI will also be released, and the Fed will also release its monetary policy report on Friday, and Federal Reserve Chairman Powell will attend a congressional hearing. The Sino-US trade war is heating up, and after 200 billion yuan in tariffs on goods, Trump has also threatened to tax $550 billion worth of Chinese goods, and the progress needs to be closely watched.
Today's capital flow
Today's capital flow, the collective collapse of the non-ferrous metal sector lost 899 million. And the black chain is still the main object of favor of funds, in which 376 million of the funds into the thread, iron ore, coke are also about 200 million funds to add.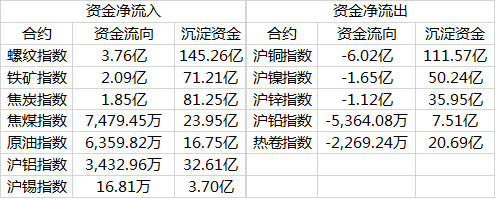 A brief comment by SMM analysts on July 11
Copper: after the close of trading in Europe and the United States, the United States issued another 200 billion tax list, the market risk aversion ignited instantly, copper plummeted by $200 per ton. Today, the main Shanghai copper 1809 contract followed the short opening at 48890 yuan / tonne, after the opening, a large influx of short positions, copper prices plummeted to 47800 yuan / tonne, after a brief consolidation, slightly recovered to 48450 yuan / tonne. At noon, short positions began, copper prices continued to concussion downward, touching a one-year low of 47520 yuan / ton, the end of the session, short part of the profit to leave the market, copper prices recovered slightly, closed at 48140 yuan / ton, down 1660 yuan / ton. Positions increased by 15000 to 204000, while transactions surged by 332000 to 541000. The trade war escalated and the air side made a comeback. copper in Shanghai fell 3.37 percent in a single day, with a maximum decline of more than 4 percent, easily breaking the five-day moving average. Today, the net outflow of funds from the non-ferrous plate was 899 million yuan, with the renminbi breaking through five levels to 6.69 yuan in a row. Evening focus on the United States in June CPI,PPI ratio, if the macro negative superposition of the United States index higher, copper prices difficult to stop, directly down 47500 yuan / ton integer platform. Evening test 48000 yuan / ton integer gate. (SMM Jiang Yutong)
Aluminum: the main contract of Shanghai aluminum opened at 14210 yuan / ton in the morning. after the opening of the market, because the United States imposed additional tariffs on 200 billion tariffs, short positions put a lot of pressure on aluminum prices, and the aluminum price plummeted to 13865 yuan / ton. After hitting the bottom, long into the market, Shanghai aluminum concussion rebound, the end of part of the short profit to leave the market, Shanghai aluminum closed at 14010 yuan / ton. The main trading volume of Shanghai Aluminum increased by 133000 hands to 279000 hands, the volume of positions increased by 11534 hands to 283388 hands, and the position of Shanghai Aluminum Index increased by 14668 hands to 665218 hands. The sudden increase in tariffs by the United States has led to a sudden deepening of market concerns and a sharp drop in the overall pressure on non-ferrous metals. However, relative to other items, aluminum ore supply tightened recently, alumina production price rebound also gave aluminum price strong support from the cost end, bulls are still confident that they will enter the market frequently at low levels. In the evening, we will continue to pay attention to the progress of the Sino-US trade war. if there is no new news stimulus, non-ferrous metals as a whole may rebound slightly. (Wang Rui, Shanghai Colored net)
Lead: within the day, the Shanghai lead 1808 contract opened at 19263 yuan / tonne, the overnight Sino-US trade war escalated, Shanghai lead was killed to 19015 yuan in panic in early trading, broke through the 60-day line in one fell swoop, left the market after short positions, and Shanghai lead rebounded to near the daily moving average. in the afternoon, The market was worried that the panic at night would further ferment, and non-ferrous metals as a whole weakened as a whole. at one point, Shanghai lead fell below the integer level of 19000 yuan, reaching 18790 yuan per tonne, and towards the end of the day, some short positions left the market, and Shanghai lead recovered slightly above 19000 yuan. Finally, at $19045 / tonne, down $515 / tonne, or 2.63%, the position decreased by 2832 hands to 56464 hands, and the position continued to decline. The amount of lead in Shanghai fell, closed at a long negative line, broke down at the beginning of the market, fell below all support levels, the downward trend is obvious, Shanghai lead or inertia is expected to fall at night. (Guo Rong, Shanghai Colored Network)
Zinc: today, the main 1809 contract of Shanghai Zinc opened at 21475 yuan / tonne. at the beginning of the market, the volume fell and closed down, and then a small number of short positions profited from leaving the market. Shanghai Zinc reopened the board, and the center of gravity was slightly raised to 20600 yuan / ton to sort out and run. Then the short gradually took the position into the market, Shanghai Zinc suffered a setback to seal the limit board for the second time, near the end of the session a small number of long positions, short position reduction, Shanghai Zinc once again get rid of the limit around 20500 yuan / ton concussion. The close fell to 20545 yuan / ton, down 1070 yuan / ton, or 4.95%, from the close of the previous session, with volume up 222000 to 541000 and positions up 15574 to 186000. Within the day macro bearish detonated short mood, Shanghai zinc release plummeted recorded a large negative column, the current short stop surplus departure performance is not obvious, the evening is still not overly optimistic, but below 20000 yuan / ton there is still room for expectation. We will pay attention to China's response to tariffs imposed on the United States and Canada. (Yan Yali, Shanghai Colored net)
Tin: yesterday night Shanghai tin 1809 contract near the 10-day moving average to maintain a narrow range of consolidation; Affected by the escalation of the Sino-US trade war this morning, the market plunged sharply after the opening of the market, hitting a minimum of 141230 yuan / ton, then slowly recovered and recovered some of the lost ground, mainly around 142300 yuan / ton, and finally closed at 142590 yuan / ton in the afternoon. It was down 1510 yuan, or 1.05 per cent, from the previous closing price. The transaction was 24984 hands, and the position was reduced by 31068 hands by 502 hands. Traders negative impact on fermentation so that market sentiment under pressure, the short-term trend is expected to be weak, below the support of 140000 yuan / ton. (Wu Xiaofeng, Shanghai Colored net)
Nickel: today, Shanghai Nickel 1809 opened at 110510 yuan / tonne, affected by the escalation of the Sino-US trade war. at the beginning of the plate, Shanghai nickel opened low, long fled, short sellers came in, Shanghai nickel released sharply, bottoming out 108140 yuan / ton, below 108000 yuan / ton customs support. Short profit-taking, Shanghai nickel rebounded slightly, touching a high of 109690 yuan / ton, the upper pressure of 110000 yuan / ton mark, shock weakened to 109000 yuan / ton mark near. In the afternoon, short positions continued to increase, Shanghai nickel continued to explore, to around 108350 yuan / ton, short positions reduced, Shanghai nickel back to 109400 yuan / ton. Multi-empty double on the 108500 ≤ 109500 yuan / ton saw. All day, Shanghai nickel main contract 1809 closed in the big shade line, compared with the previous day's settlement price fell 2280 yuan / ton, down 1.04%. Volume increased by 371000 to 1.043 million, while position decreased by 13000 to 326000. The daily technical index KDJ opens downward and the MACD green column becomes longer. Shanghai nickel or around 109000 yuan / ton pass weak concussion at night. Evening attention to the United States June PPI month-on-month, the United States July 6 week EIA gasoline inventory changes (10, 000 barrels), the United States July 6 week EIA crude oil inventory changes (10, 000 barrels). (Shanghai Colored net Duan Chunjing)