SMM: since March this year, the Sino-US trade war has been repeatedly sawed, with the continuous increase and upgrading, the demand side of the market has a certain impact. In particular, the "hot war" in the field of electronic chips, for antimony, is also a big blow. From April 10 to May 3, antimony prices fell by 3.77 per cent, or 2000 yuan a tonne.
The trade war of continuous chainsaw makes the end market generally worrying. according to SMM research, terminal manufacturers often take rigid demand as the standard, rarely make purchases in batches, the market as a whole is weak, and the matching degree between the two sides of the transaction is not high. The quotation makes the profit stalemate, the actual transaction is on the low side.
At the same time coincides with the overseas summer break before the procurement period, the overseas market is depressed, and buyers also kill the willingness to fall, antimony demand continues to show a weak trend.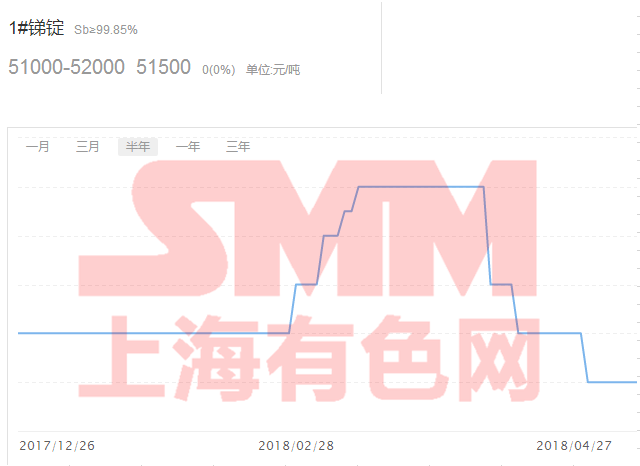 The price of antimony continued to fall from March to May
However, with the normalization of environmental action, the supply of antimony began to slow. according to SMM research, it is still difficult to mine concentrate under the pressure of environmental protection in the northern region of China, and the supply is rare. The cost of overseas imports is relatively high, and the transaction situation is not satisfactory. As demand and supply are reduced at the same time, the overall market began to maintain a balanced situation.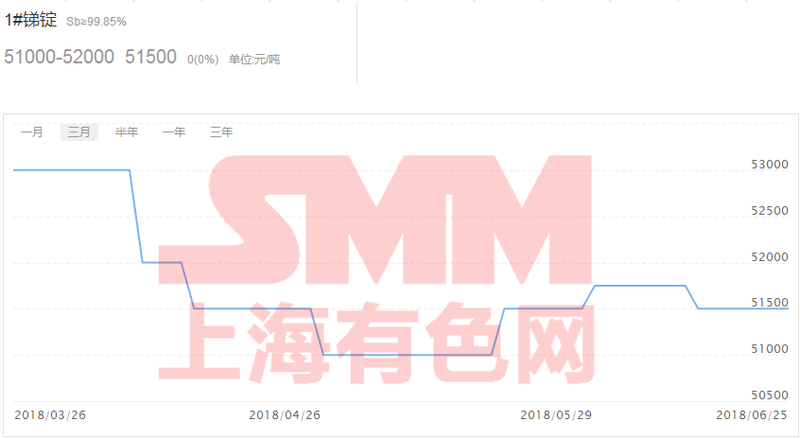 Antimony prices stopped falling and recovered slightly
In the article "SMM Antimony spot Weekly report: low inventory slows the decline in Antimony Price (2018.06.19 ≤ 2018.06.22)" released on the 22nd of SMM6, it is predicted that it is in the period of purchasing before the overseas summer break at this stage, but no order increment has been seen. It can be seen that the performance of overseas markets is not good, and buyers still have a willingness to kill and fall. Although domestic production suppliers are worried that summer break prices will weaken, but this year's overall output inventory is not as good as in previous years, in addition to individual high-inventory suppliers in a positive shipment for cash, the overall mentality of production enterprises is stable, next week the antimony market is weak and stable.