SMM News: with the opening and development of the spot and futures markets for copper, aluminum, lead, zinc, and other non-ferrous metals, as well as the emergence of various new derivatives such as options, non-ferrous metals are no longer a simple concept of physical commodities for everyone. At the same time, it has also been labeled as "investment" and "speculation", and the changes in price, production and sales, as well as the balance of supply and demand, have become an important reference index for market operation.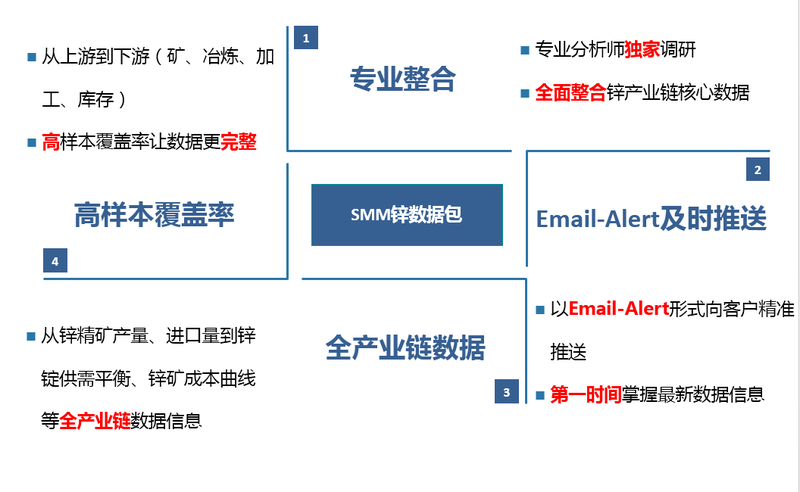 Professional integration
The data sources are mainly based on the team's first-hand follow-up survey, and combined with the information issued by the relevant authority departments in the industry, carefully compiled. Zinc team professional analysts, real-time tracking of core value data, professional collection of zinc industry chain the latest data.
Email-Alert timely push
One of the main features of this packet is that in order to meet the customer's demand for timely understanding of the data market, the SMM zinc research team first updated the "colored data" section. Choose the form of Email-Alert to investigate and understand the zinc industry chain related data information to send mail to ordering users in a timely manner.
In addition, unlike the information lag of sending data once in the past month, SMM will send it to users as soon as the zinc industry-related data comes out, of course, The full version of the industry packet will still be sent to subscribers around the 10th of each month. Later, zinc industry analysts will also continue to track and maintain to ensure the timeliness and integrity of the data.
Whole industrial chain data
The "data package" contains analytical data and prices from upstream to downstream (ore, smelting, processing, inventory), including zinc concentrate production, zinc concentrate import, zinc ingot supply and demand balance and zinc ore cost curve. From upstream to downstream (mining, smelting, processing, inventory), high sample coverage makes the data more complete.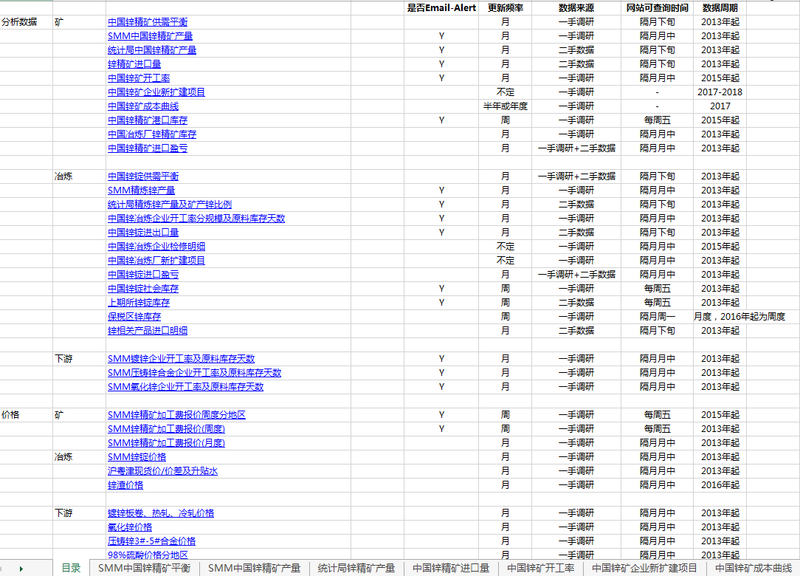 Zinc packet directory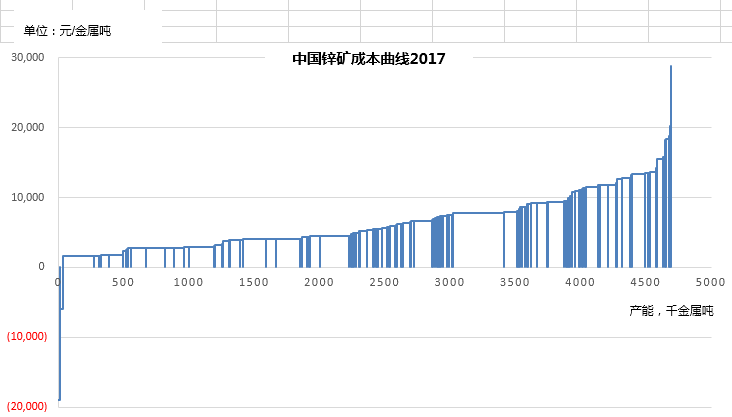 Partial cost curve
High sample coverage
In addition, the data sample coverage in SMM "zinc packet": social inventory is Shanghai, Guangdong, Tianjin and bonded area, mine is 40%, downstream galvanized is 30%, die casting is 45%, zinc oxide is 60%, smelting is 90%.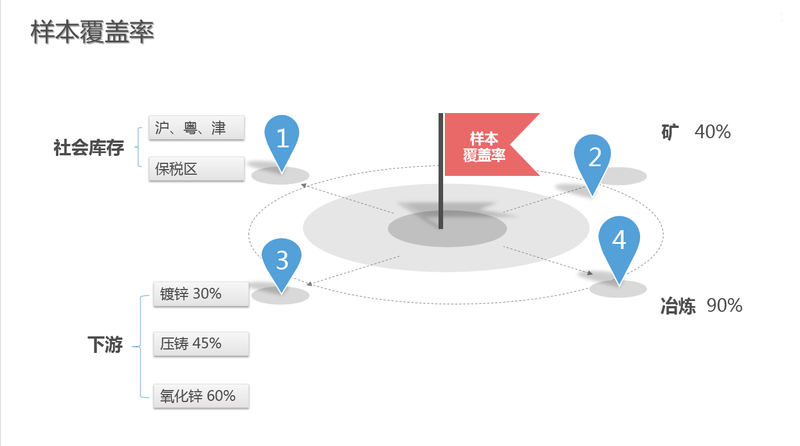 Zinc packet sample coverage
After knowing such a timely and comprehensive first-hand heavy data, the research and judgment of the market situation and the formulation of the trading strategy will become as easy as the palm of the hand!
Pay attention to other items (copper, aluminum, lead, etc.) netizens do not have to worry, SMM other non-ferrous metal products purpose "data packet" is coming to meet you at a "rocket" speed, please pay attention!
Contact person:
Wu Tingting (Director of sales) Tel: 021 51595784
Mrs Lo Ka-lung (Chief Information Officer) Tel: 021-51595830
Shanghai Nonferrous Network (SMM) Wanqiong