SMM3, March 18: the Shanghai Copper 1805 contract closed at 50980 yuan / ton on Friday, and the Shanghai Copper 1805 contract closed at 52120 yuan / ton on Friday, March 16. Copper rose 2.23 per cent this week from Friday's close. Copper prices have finally risen after falling for two weeks in a row. So what will copper prices do next week?
According to a SMM survey of domestic industry figures, 31 per cent of participants were short-term bullish on copper prices (up more than 1 per cent) and 49 per cent saw strong shocks (up less than 1 per cent) compared with the daytime closing price of 52120 yuan per tonne on March 16, with 31 per cent of participants bullish on copper prices in the short term (up more than 1 per cent). Eight per cent of participants saw the volatility weak (down less than 1 per cent) and 12 per cent saw copper prices fall (down more than 1 per cent).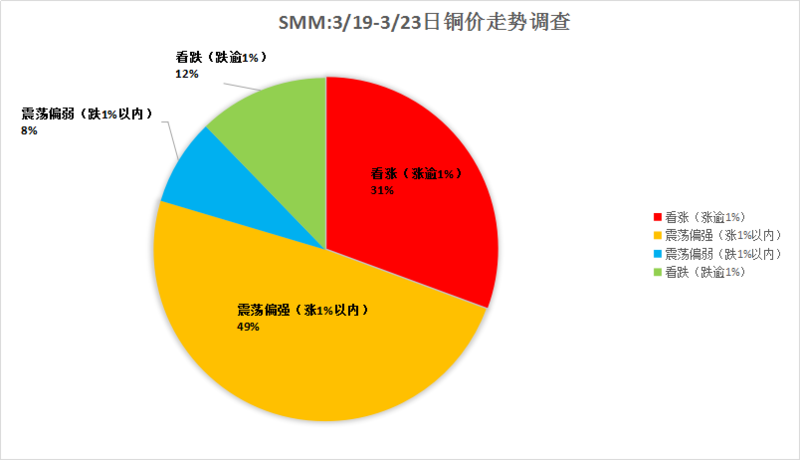 SMM exclusive interview: outlook for Copper Price trend next week
Everbright Futures Xu Maili: from the point of view of the copper market itself, whether it is the slow recovery of the spot market, the gradual decline in concentrate processing fees, or the marked decline in import profits and losses, or the low increase in Lundongmei copper positions is more profitable than copper prices. However, the collapse in the black market and the rise in the dollar remain the main risk points for copper prices to fall. On the whole, we prefer that copper prices will gradually fluctuate or strong.
One Germany futures Wu Yuxin: concussion strong operation. On the macro level, the domestic economic data are better than expected, and there will be a revision of pessimistic expectations; whether the Fed will raise interest rates next week or not will hit the ground. at present, there is a high probability of raising interest rates. once the interest rate is raised, it will be possible to sell the facts, and the US dollar will fall back, which will support copper prices. In the industry, the supply-side disturbance is not obvious, mainly concerned about the demand side, after the two sessions, the downstream will really start, then pay attention to the extent of inventory reduction, has decided to short-term driving strength.
McCormick futures Deng Hong: domestic inventory increases rapidly, spot discount is too large, there is still callback pressure, but downstream consumption is also beginning to show signs of recovery, the spot market is expected to gradually active, low support can be expected, prices may fluctuate in 52000 ≤ 51000.
Guotai Junan Ji Xianfei: copper prices are expected to pick up next week. Market bearish sentiment released, copper prices have stabilized, copper prices short-term driving logic will be biased towards the consumer side. In March, most of the processing enterprises have resumed work, but the enthusiasm of replenishment is not high, tend to rigid demand procurement and low-volume procurement, the main reason is the continuous increase in inventory, to the market to convey the message that there is no shortage. With the continuous increase of late orders, enterprises take the initiative to replenish the enthusiasm or improve, which will support copper prices to a certain extent.
Soochow Futures Zhang Huawei: last week, copper prices continued to stick to a long and short state. since the beginning of March, Lun Copper has fluctuated between US $6850 and US $7000 per tonne, despite Trump's signing of a tariff decision on the import of steel and aluminum. Markets worried that the outbreak of a global trade war dampened economic growth and that China's economic data in February were better than expected, breaking through the upper and lower ranges, but both returned to the range because of long and short kinetic energy. Copper outflows from Shanghai last week reduced positions by more than 20,000 hands. From a macro point of view, the global economy is still expanding steadily, the labor market in Europe and the United States continues to be strong, inflation is confident that it is on an upward track; From the fundamental point of view, the peak season of Chinese consumption is gradually coming and downstream demand is expected to strengthen, and the center of gravity of copper prices is expected to rise gradually. Short-term movements are expected to remain volatile next week as a result of the global trade dispute, the level of interest rate hikes at the Fed's meeting and the degree of funding constraints in domestic financial markets.
SMM exclusive prediction
Macroscopic interpretation
China
China's main macroeconomic data, such as investment and industrial production, rebounded better than expected in January-February, with investment growth rising to a six-month high and industrial production growing at a seven-month high. Analysts said the better-than-expected figures showed that China's economy was getting off to a better start. From January to February, the national economy made steady progress, entered China and educated new people, and made a good start towards high-quality development. At the same time, it should also be noted that the international environment is still complex and changeable, some outstanding problems of unbalanced and inadequate domestic development have not yet been resolved, and the task of improving quality and increasing efficiency is still arduous. In the next stage, it is necessary to resolutely implement the decision-making arrangements of the CPC Central Committee with Comrade Xi Jinping at the core, conscientiously implement the objectives and tasks of the government work report, take promoting high-quality development as the fundamental requirement, and vigorously promote supply-side structural reform. We will coordinate efforts to stabilize growth, promote reform, adjust the structure, benefit the people's livelihood, and prevent risks, and resolutely fight the three major battles of preventing and resolving major risks, accurately eradicating poverty, and preventing and controlling pollution. Strive for higher quality, more efficient, fairer and more sustainable development.
America
Trump fired executives such as the secretary of state, sparking fears that US President Donald Trump fired Secretary of State Tillerson on Tuesday (March 13). After the departure of Chief Economic adviser Cohen because of the tariff plan, which further raised concerns about political instability in the United States, the US dollar index was significantly dragged down, and the US dollar index once fell below the 90 integer level to around 89.57. Mr Trump then sacked Mr Masters as national security adviser, with most non-US currencies clearly supported earlier this week.
Trump named the new chief economic adviser, who made strong dollar remarks Trump chose economist and prominent economic commentator Kudlow as chief economic adviser to the White House. The incoming senior US government official unexpectedly made a "strong dollar" speech, and even made a rare suggestion to buy dollars and sell gold, helping the dollar recover the 90 integer mark. Non-US currencies such as the euro generally fluctuated downwards. Mr Kudlow said on Thursday that the Fed would take all necessary measures, but hoped it would not "go too far". Countries that have never seen their currencies depreciate can prosper. It is hoped that the dollar will be slightly stronger than it is today. There is no reason to believe that president Trump does not want to see a stable and strong dollar. Withdrawing from the North American Free Trade Agreement (NAFTA) (NAFTA) would have bad consequences.
U.S. industrial output data are beautiful, further supporting the dollar, and this week's U.S. retail sales data and CPI data did not cause much market volatility. But industrial output rose 1.1 percent in February from a month earlier on Friday, the best performance in four months, helping the dollar hit a two-week high near 90.38, and commodity currencies were significantly dragged down. At one point, the Australian dollar rose to 0.7707 against the dollar for more than three and a half months. Separately, preliminary data from the University of Michigan showed consumer confidence rose to its highest level since 2004 in March. At the same time, the Labor Department reported a record job gap of 6.3 million in January, a figure that also supported optimistic expectations for non-US data two weeks later.
Euro area
Speaking at a meeting of ECB observers on Wednesday, ECB President Jean-Claude Draghi said increased risk would undermine confidence in the inflation path and a stronger euro would put inflation at downside risk.
Mr Draghi pointed out that monetary policy would continue to be patient and persistent; policy adjustments would remain predictable, would advance at a reasonable rate, would remain cautious and would have to be seen to rise in order to end QE. The policy order set out in the forward-looking guidelines will continue to be maintained, and the current outlook will be less dependent on net asset purchases, but the conditions for ending net asset purchases will need to be sustained as the inflation path continues to adjust towards target.
Mr Draghi added that we were seeing inflation moving towards its target, but that underlying inflation remained low and slowing compared with the previous pick-up in inflation; the development of the foreign exchange market was one of the risks, and a stronger euro would put inflation at downside risk. The new US trade policy faces spillover risks, the outlook for the eurozone still faces two major risks, and if the risk intensifies, it will undermine confidence in the inflation path. The main objective now is to stabilize prices, and it is still necessary to see that inflation is moving in the right direction. However, many indicators still fail to show reliable signs of a sustained rise, and the question is how fast demand increases transmit to rising prices.
Crude oil market
Three major energy agencies in the crude oil market released monthly reports on the crude oil market this week, and there are general concerns about the increase in crude oil production, especially in the United States, where oil prices were once close to the 60 integer mark. But in the end, as the global situation warmed up this week, it helped oil prices recover all their losses.
EIA monthly report: shale oil production in the United States has reached a new high, and demand growth is expected to increase, according to a monthly report released on Tuesday by (EIA), the American Energy Information Association. Us crude oil production is expected to grow by 120000 b / d in 2018 compared with previous forecasts, and US shale oil production in April 2018 will rise by 1.4 million b / d over the same period last year to a record high of 6.954 million b / d as a result of a sharp increase in shale oil production. April will also add a further 131000 barrels a day from its March high. The EIA monthly report also said U.S. crude oil production rose to 10.057 million barrels a day in November, a 47-year record, and is expected to increase by 1.38 million barrels a day to 10.7 million barrels a day for the whole of 2018. It is expected to increase by 1.26 million barrels per day to 10.59 million barrels per day last month. On the demand side, EIA expects US oil demand growth to increase by just 20, 000 b / d to 470000 b / d in 2018.
OPEC monthly report: increase the forecast of supply growth in non-OPEC countries and increase the rate of OEPC reduction
On Wednesday, the OPEC released its March crude oil market monthly report, raising its forecast for supply growth in other countries, such as the United States. rival supplies are expected to outpace demand growth, but OPEC production cuts have risen. OPEC expects rival supply to outpace demand as shale oil grows rapidly, raising its forecast for non-Opec supply growth to 1.66 million barrels a day in 2018, up from 1.4 million barrels a day. However, the OPEC monthly report also showed that the 11 OPEC member countries that need to implement production cuts to increase the implementation rate of production reduction were 147% in February and 137% in January. On the demand side, OPEC lowered its demand forecast; OPEC expects crude oil demand to grow by 1.6 million barrels per day in 2018 and expects global demand for OPEC crude to fall by an average of 250000 barrels per day to 32.61 million barrels per day in 2018.
IEA monthly report: raise the demand forecast, raise the global refinery capacity forecast on Thursday (March 15), the International Energy Agency (IEA) released the monthly crude oil market report, the content is relatively simple. The decline in Venezuelan production could put the oil market in short supply in 2018, mainly by raising its forecast for global crude oil demand growth by 100000 barrels a day to 1.5 million barrels a day in 2018. But IEA also noted that OECD commercial crude inventories rose to 2.871 billion barrels in January for the first time in seven months, with global refining production rising 1.1 million barrels a day in the second quarter from the first quarter and setting a record 81.8 million barrels a day.