SMM3, March 11: the Shanghai Copper 1804 contract closed at 52320 yuan / ton on Friday, and the Shanghai Copper 1804 contract closed at 50980 yuan / ton on Friday, March 9. Copper is down 2.56 per cent this week from Friday's close. Copper prices fell more than 2 per cent for two weeks in a row. So what will copper prices do next week?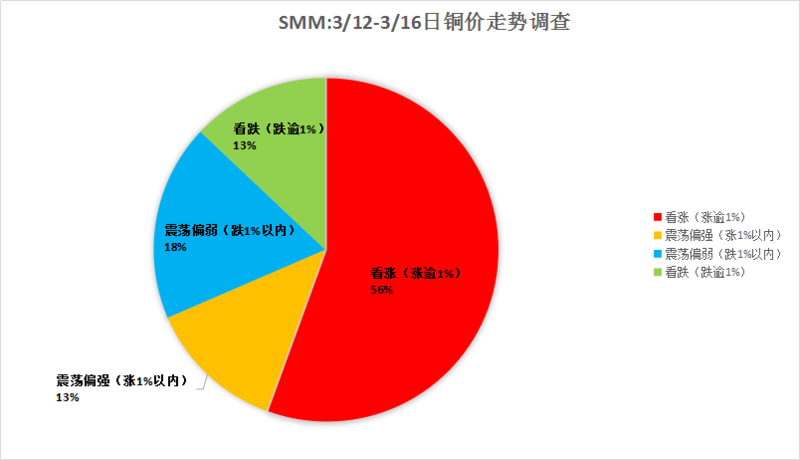 SMM exclusive interview: outlook for Copper Price trend next week
McCormick futures Deng Hong: due to the release of new capacity of refineries, coupled with increased imports, domestic inventories continue to increase after the festival, copper supply is loose, it is difficult to narrow the discount, spot pressure is temporarily greater. Adding to this week's fears of a trade war between China and the United States, China's economic growth prospects are under pressure, financial market panic is simmering, and macro bearish is the dominant factor. However, downstream consumption recovered normally, waste copper tension intensified, spot support gradually increased, contradictory to the macro negative, copper prices will remain weak, but the shock intensified, may mainly fluctuate in 52, 000 to 50, 000.
Soochow futures Zhang Huawei: copper prices continued to fall last week, as of Friday, the Shanghai copper index fell 2.52% weekly. The economic growth targets and CPI targets announced in the report on the work of the Chinese government are basically in line with market expectations. However, a 0.4 percentage point reduction in the deficit-to-GDP ratio may indicate that an active fiscal policy is weaker than expected. At the same time, combined with the control of the total amount of government debt, the scale of infrastructure investment this year may be affected. Zhou Xiaochuan said that future economic growth will reduce the past way of relying heavily on financial support. The change in the mode of economic growth will affect the total demand for industrial products. China's car sales growth nearly stagnated in the first two months, and insufficient purchasing power could lead to zero growth in 2018. The cost of financing for real estate enterprises has risen, mortgage rates have risen, and the real estate market may tighten further this year. Pessimism spread in the domestic market, with black plummeting. Foreign US President Donald Trump has signed a tariff on imports of steel and aluminium amid fears that a global trade war would dampen economic growth. The prices of industrial products have weakened collectively. But copper prices are expected to move up after a downward adjustment. Global economic fundamentals are still improving, external demand is recovering strongly, and domestic exports were much better than expected in the first two months. Global inflationary pressures are rising. Trump's tariff resolution is not as tough as expected, and the impact on the global economy is limited at the moment. On the domestic demand side, the investment in the power grid has increased, and the consumption of copper in the distribution network is expected to continue to drive up the total demand for copper. Copper demand is expected to rise gradually after the resumption of work downstream. Copper prices are expected to continue to decline in limited space.
SMM exclusive prediction
There are more important economic data next week, providing an important basis for the upcoming Fed meeting in March to raise interest rates, focusing on the evolution of Trump's tariff policy, and the pattern of a strong dollar is unlikely to change for the time being. Technically speaking, Luncun lost its EMA support, the MACD green column became longer, and its position continued to decrease for a few weeks after the Spring Festival, superimposing the impact of the overall empty atmosphere of commodities. Short-term copper price trend after opening the downward channel may maintain a weak low operating pattern. It is expected that the overall operation of Lun Copper will be in the range of 6,650 US $6,900 per ton next week.
On the domestic side, next week focus on industrial value added above the scale of January-February compared with the same period last year and urban fixed asset investment compared with the same period last year. According to SMM research, domestic refined copper production rose sharply in February compared with the same period last year, and China's unwrought copper and copper imports also rose in February compared with the same period last year, and domestic refined copper supply is abundant. On the consumer side, although the SMM survey found that downstream orders were good, the start of processing materials and terminals was later than in previous years, and consumption is still recovering slowly and gradually. After the Spring Festival, the steady and tight state of funds has also inhibited the enthusiasm of consumption and buying to a certain extent, and for the time being, the support for copper prices is limited. The tight supply of scrap copper, this week's market conditions clearly did not keep up with the decline in copper, is expected to stimulate some refined copper consumption. At present, Shanghai copper has fallen below the main support level since September last year. technically, the decline is expected to be difficult. it is expected to test the weekly 60-day average of 50500 yuan / ton line support level next week, and the overall will run in the range of 50500 ≤ 52500 yuan / ton.
Spot, next week into delivery, the next month's spread will guide the change in sticker water, with the current spread space to predict that good copper will quickly return to the water. Inventories increased by another 7808 tons in the previous period of this week, and imported copper is expected to pour in next week, easing supply or hindering the rise and speed of the water; However, if copper prices continue to run close to 50,000 yuan next week, it is expected that the downstream will actively enter the market to stock, and the enthusiasm of consumption and purchase will be significantly increased. therefore, judging by the current monthly price difference of 280 yuan per ton, Next week, the spot quotation will gradually rise in flat water ~ 100 yuan / ton by the 15th, and return to the discount situation after delivery.
Macroscopic interpretation
China
China's new services PMI fell in February, but the macroeconomic stability has not changed.
China's foreign exchange reserves fell in February, but thematic trading was generally stable, mainly due to rising volatility in the international financial market, as well as the decline in the US dollar and asset price correction and other factors, the size of foreign exchange reserves fell slightly.
China's trade account in February was much higher than expected, with export data surging, indicating strong external demand and factors such as the low base of high growth in February and the Spring Festival.
China's M2 growth rebounded for two months in a row in February, but social financing and new renminbi loans were "halved", but Zhou Xiaochuan later said M2 did not accurately represent economic development and needed to be combined with economic data such as inflation and employment.
China's annual CPI rate rose in February from a month earlier, mainly due to the combination of Spring Festival and low temperatures. However, according to China's PPI data, month-on-month PPI rose from last month to a slight decline this month, and year-on-year PPI gains continued to fall back, down from last month.
America
This week's issue of Trump tariffs has been affecting sensitive nerves in global markets. Since US President Donald Trump unexpectedly decided last week to impose additional tariffs of 25% and 10%, respectively, on imports of steel and aluminum to the United States, voices about a "trade war" have been heard one after another, and major trading partners of the United States have expressed dissatisfaction. Many countries have expressed reservations about the right to take retaliatory measures against the United States. And with the announcement of the resignation of free trade White House economic adviser Cohen, a major obstacle to Trump's tax plan has been removed, exacerbating fears of a possible trade war. Markets once feared that other officials who had made economic decisions in the White House, such as Commerce Secretary Ross and Treasury Secretary Noochin, who went out of the Goldman family with Cohen, would follow suit. As a result, market panic jumped sharply in a short period of time, Asian stocks fell on Wednesday, and Dow Jones index futures tumbled nearly 400 points in after-hours trading. At the same time, safe-haven assets have risen, with spot gold prices and the yen once again approaching recent highs. As soon as the news came out, global stock markets and the dollar fell. Kurt Moore (Marc Cudmore), a Bloomberg macro commentator and former Lehman trader, thinks Cohen's resignation is far more serious than the market thinks. He pointed out that the US financial sector has just lost its key allies in the US government, which could undermine confidence in the industry and the economy as a whole, while Cohen's high-profile departure has weakened the Trump administration as a whole. Widened the divide between Trump and the top Republicans.
But Mr Trump's stance softened as senior US officials stepped forward to "extinguish" Mr Trump's policy actions. White House Press Secretary Sanders (Sarah Huckabee Sanders) said Wednesday that Trump will sign tariffs on steel and aluminum by the end of the week and that other countries, such as Mexico, may be exempted. Us President Donald Trump will grant Canada and Mexico a 30-day tariff exemption on new tariffs on imports of steel and aluminum, the Washington Post quoted administration officials as saying. Tariff exemptions may be extended in the light of progress in the renegotiation of the North American Free Trade Agreement (NAFTA) (Nafta). Trump also said he showed tariff flexibility to international allies, easing market tensions. In the ECB resolution, the ECB governor's stance on "de-easing" disappointed investors, sending the dollar up quickly and then hitting a one-week high of 90.3764. Meanwhile, the February non-farm payrolls report released on Friday showed that the U.S. non-farm payrolls rose by 313000 in February, well above expectations of an increase of 205000. However, the average hourly wage rate in the United States in February was only 0.1 per cent, below expectations of 0.2 per cent. The performance of wage data has attracted more attention as tightening of the US labour market has been widely expected. The failure to continue January's strong performance in February could mean that upward pressure on inflation in the US remains moderate and that the pace of Fed rate hikes may slow accordingly, falling short of market speculation four times.
Euro area
On Thursday, the ECB's interest rate resolution was issued as scheduled, although the ECB, as expected, deleted the phrase "add or extend QE if necessary" from the wording of the resolution. It shows that it is still inevitable for its future policy direction to follow the Fed's path of tightening, but the exchange rate of the euro against the US dollar has only slightly rallied in a short period of time, and then turned around 180 degrees and fell more than 100 points, once falling to the 1.23 mark. The intraday decline was also the biggest in a month.
Market participants believe that the reason for this situation is that the "de-easing" prospects are still not firm enough, so that investors are disappointed after in-depth interpretation. Although the change in wording shows that the thinking of monetary policy management in the eurozone has gradually moved out of the "crisis governance" model and has gained more confidence in the current and future prospects of the regional economy. But the ECB reiterated that the current quantitative easing (QE) bond purchases will continue until the governing Council believes that the inflation path continues to adjust to the target level. In addition, while the ECB promised not to expand bond purchases, it also continued to reiterate that it would extend bond purchases if necessary.
Crude oil market
As a result of the US tariff issue, US oil fell above $60 at one point. Earlier, US oil hit a recent high of 64.24 on the back of two weeks of gains in more single positions in the market. As tariff heat fell and drilling fell for the first time in six weeks, US oil closed again above line 62. Although the market predicts that demand for crude oil will continue to increase in the future, the recent increase in natural gas production and the decline in crude oil multi-single positions mean that the pressure is obvious for a short period of time.
Last week Mr Trump said he would impose tariffs of 25 per cent and 10 per cent on imports of steel and aluminium, respectively. This will also lead to significant increases in operating costs in the energy industry, including pipeline construction, refineries, processing facilities and shale oil drilling. The American Petroleum Institute says the U. S. crude oil industry relies heavily on special steel, which is actually lacking in the United States. With Cohen's departure on Tuesday, market concerns intensified and oil prices fell from a one-month high. At the same time, some market participants worry that the US move could lead to trade disputes, leaving the energy market in a state of downturn. Wednesday's EIA data showed crude oil inventories rose slightly more than expected, while gasoline inventories unexpectedly fell, sending both crude oil and gasoline futures higher in the short term. But oil prices have plummeted again amid fears that Trump's tariffs will trigger a trade war and that US crude oil production continues to hit new highs.
Earlier this week, Saudi Arabia said it would work with Putin to curb the sharp rise in US crude oil production and support Mr Putin's greater role in the Middle East. Alexei Thales, Russia's deputy energy minister, also said US crude oil production was a threat to Russia's market share and that Russia and OPEC would further deepen co-operation and exchange in potential technical and policy areas. Meanwhile, OPEC and Shale Oil met at the annual CERAWeek Energy Conference in Houston on Monday, amid speculation that the two sides would discuss production cuts in depth, leading to a short-term rise in oil prices. In fact, OPEC and Russia have been actively maintaining the current production framework. The data show that overall OPEC production is still on a downward trend, with OPEC crude oil production down about 70, 000 barrels a day in February compared with January. ? In addition, according to Platts Energy Information, the implementation of the 12 OPEC member countries, with the exception of Libya and Nigeria, reached 145 per cent throughout February and remained at a high level. However, analysts point out that the high level of compliance is largely due to falling production in Venezuela, where declining production has enabled it to meet its 222 per cent reduction target. But compliance has fallen in some countries, such as Iraq and Iran.