SMM3: the recent "trade war" has continued to ferment, and Trump's vociferous "trade war is good" has sparked fears of a trade war. although the "tone" has since changed, market concerns have not subsided. Wednesday's resignation of economic adviser Cohen pushed the mood up, sparking market panic and sending the dollar down.
Us President Donald Trump will hold a signing ceremony for steel and aluminum tariffs at 15: 30 local time (4:30 Beijing time on Friday), Reuters was quoted as saying. The declaration it signed had three main concerns: first, whether there was a state exemption, which, if not, would impose tariffs on countries around the world; and, if so, which steel and aluminium products would be exempted from tariffs? Past declarations have listed targeted tariffs on specific products, but the current situation is different; third, the process of tariff exemption and how to deal with potential exempted products or countries after the announcement of tariff decisions.
But after Mr Cohen, who supports a free economy and opposes tariffs, leaves office, White House officials say (Peter Navarro) Navarro, chairman of the National Trade Council, and Larry Kudlow, a conservative commentator, are hot candidates to replace Mr Cohen. Among them, Navarro is known for his tough trade policy stance.
All the signs point to the escalation of trade friction into a trade war, and is Trump bent on going his own way about the global trade turmoil provoked by the United States? Will a trade war begin and what will happen to the dollar? What impact will it have on steel and aluminum? SMM interviewed Professor Wang Zairong, chief adviser on Rongcai assets.
Mr Wang said Mr Trump's comments were expected and consistent with his pre-election manifesto. After the tax reform aimed at trade balance, is his ruling strategy. This move is more symbolic, as far as Chinese exports are concerned, his choice of aluminum and other varieties has little impact on China. These statements and actions are more about winning the confidence of businesses and voters, which is good for his re-election.
With regard to the future trend of the US dollar, he said that the US dollar will continue to weaken in the future, which is consistent with the previous judgment. in the medium to long term, the US dollar will go from 2020 to about 80, and in the medium to long term, it will be weaker than the US dollar.
As to whether a global trade war will begin, Wang Zairong said that there is no need to worry too much about a trade war sweeping the world. at present, economic globalization and financial globalization are inevitable, and no one can stop globalization. Trump's move is what he says is in the interests of the United States first and must be done, and when it goes to a certain stage and is condemned by countries and economies, Trump will also change these actions. There will be no large-scale trade war around the world, a small scale or will occur, the future is mainly trade friction, which is inevitable.
For the two varieties that triggered the trade storm, Wang Zairong believes that China's aluminum exports to the United States are very small, and the trend of aluminum is already very low and unrepresentative. In terms of steel, it is normal for disk prices to fall back, and it is reasonable to fall back technically in the future.
Notice: on March 22, 2018, the "2018 (13th) Shanghai Copper and Aluminum Summit" jointly organized by Shanghai Nonferrous Metals Industry Association and Shanghai Colored Network (SMM) has a strong guest lineup and the registration channel has been opened.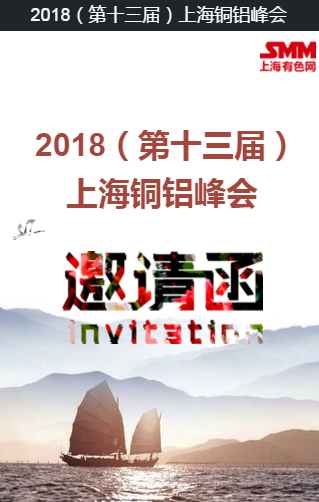 "Click here to enter the" Copper and Aluminum Summit "registration channel.