Notification: the registration channel of "2018 (3rd) Nickel-Cobalt-Lithium Industry chain Summit and cathode material Trading Seminar" organized by SMM has been opened. "Click to view details
SMM, Feb. 6: in anticipation of a smooth source of laterite nickel ore and a decline in the return of Indonesian nickel pig iron to the country, the domestic nickel pig iron plant increased production positively in 2018, and several factories said they would increase the operating rate. In addition, a large nickel pig iron plant in Shandong Province will also put into production. SMM expects domestic nickel pig iron production to increase to about 500000 nickel tons in 2018, an increase of 18 per cent over the same period last year!
However, after Indonesia has the conditions to liberalize laterite nickel exports in 2017, it will release into China in 2018. China's nickel mine supply has changed from shortage to surplus, and the increase in nickel pig iron production or a drop in the bucket of nickel pig iron production is difficult to stop the downward pattern of nickel ore prices.
According to SMM data, the balance between supply and demand of Q4E medium and high laterite nickel ore in China from 2017 to 2018 is shown in the following figure. As can be seen from the picture, the domestic nickel oversupply situation will break out in the second quarter, with a quarterly surplus of more than 8 million wet tons, as the Indonesian nickel mine continues to flow out and mines in the Suligo region of the Philippines gradually began shipping in February, but because of the rainy season, The SMM expects Philippine exports to China to gradually rise to a high level after April.
Supply and demand balance of Q1-2018 Q4E medium and High laterite Nickel Ore in China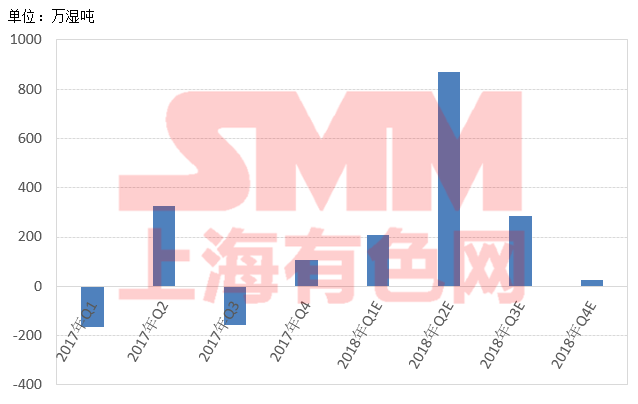 Accordingly, SMM expects nickel prices to weaken gradually from the end of February to reach a low in the second quarter, especially in low-and medium-taste nickel mines with Ni grades between 1.3 and 1.4 per cent. SMM expects CIF prices for medium and low nickel mines in Ni1.4% in the Philippines to be as low as about 20 US dollars per wet ton, and CIF prices for medium nickel mines in Ni1.65% in Indonesia to be as low as 33 US dollars per wet ton, compared with 29 US dollars per wet ton today (February 6). 42.5 ≤ 44 United States dollars / wet ton.
(Indonesian nickel pig iron plant production progress and other detailed data please consult SMM Wang Cong Tel:021-5166 6828, WeChat: c2291623. if you feel valuable, please move your finger to help forward it! )
Tip: SMM has built a question and answer platform has been launched, you have any industry questions can be asked on this platform, there will be professional analysts for you to make a detailed interpretation! "Click to view details