SMM1, March 8: Peruvian copper production was 206328 tons in November 2017, up 3.8 percent from the same period last year, according to the latest figures released by the Peruvian Ministry of Energy and Minerals. After the Las Bambas project successfully reached production, the growth rate of production was significantly narrower than last year. Peru produced 2.2139 million tons of copper in the first 11 months. Copper production is expected to stabilise towards the end of December and is expected to be between 240 and 2.42 million tons in 2017.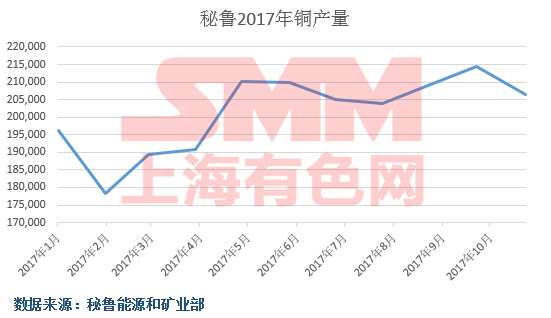 In its report, Dongzheng Futures pointed out that the potential growth of Peruvian copper mines in 2018 came from two parts: first, whether there will be a recovery in production in 2018 for copper mines whose production has been suppressed in 2017, such as the Constancia project; Second, the Southern Copper Toquepala Expansion Project project is expected to be completed in the second quarter of 2018, with an increase in production capacity of about 120000 tons. taking into account the commissioning time, it is expected to bring an increase of more than 50, 000 tons. Peru also has the threat of strikes and bad weather in 2018, but it is unlikely that a large-scale and sustained strike will be brewing. At the same time, the risk of domestic political instability in Peru has also raised concerns about the supply of Peruvian copper mines.
With regard to the Peruvian project, Zijin Mining acquired the Baihe Copper and Molybdenum Mine project in Peru in 2007. at the end of 2016, the two sides reached a consensus on speeding up the development. the project is expected to produce 200000 tons of copper a year, but it is still in the process of early development with the infrastructure. It is expected to be difficult to put into production by 2019.
Cao Yang, a nonferrous analyst at Dongzheng Futures, believes that Peruvian copper output may be 243-2.48 million tons in 2018, up 0-50, 000 tons from 2017, and output growth continues to narrow.
The Peruvian government estimates copper production at 2.5 million tons in 2018 and 3 million tons in 2021.
Chile's copper production totaled 5.0457 million tons in the first 11 months of 2017 and is expected to be about 5.55 million tons for the whole year. after a general strike in the first half of the year slowed down the pace of capacity release, production recovered significantly in the second half of the year. The main reason is that the supply interference of large mines is gradually reduced, and the increase of production in small and medium-sized mines has the effect of making up for the shortage.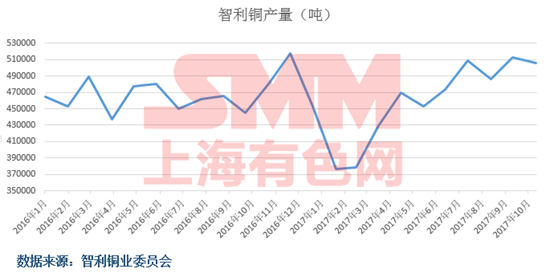 East Futures expects Chilean copper output to recover to 570-5.9 million tonnes in 2018, up more than 300000 tonnes from 2017, depending on the impact of supply disruptions.
The Chilean National Mining Association had expected Chilean copper production to reach 5.9 million tonnes in 2018, up 7 per cent from this year. Chile's national mining company expects Chile to produce 5.74 million tons of copper next year.
Chile and Peru are the world's largest and second-largest producers of copper, accounting for 28.6 per cent and 12 per cent of global copper production, respectively, in 2016.
Shanghai Nonferrous Metals Network (SMM) Yan Jun