SMM, Jan. 8 / PRNewswire-FirstCall-Asianet / according to government data, rising prices for basic metals from zinc to lithium have prompted a rebound in Australian mining and energy projects, meaning that the downturn in investment over the years is about to bottom.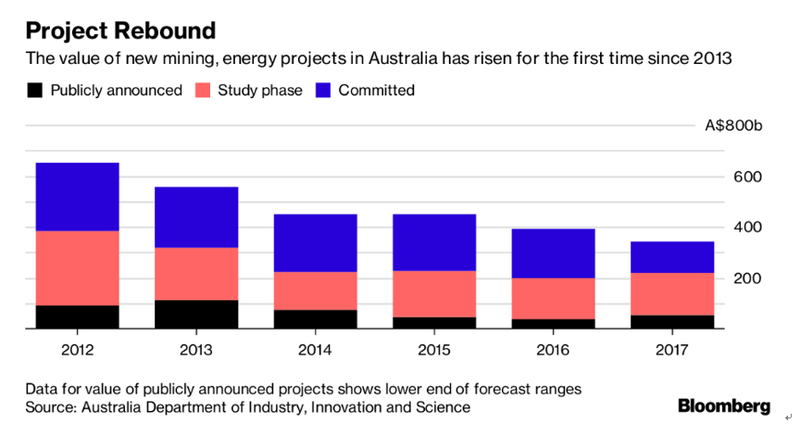 The value of these projects rose by at least A $52.5 billion between October 2016 and October 2017, the first increase since 2013, according to a recent quarterly report from the US industry, innovation and science sector. In addition, driven by strong growth in global industrial production, there has also been a "slight rise" in the price of basic metals, which has spurred developers.
Chief economist Mark Cully said that while mining investment activity is likely to continue to decline in the short term, there are positive signs of new investment in the long run. There has been a small increase in publicly announced or ongoing feasibility studies, which heralds a bottoming out of the investment cycle by mid-2018. The report shows that the recent increase in exploration expenditure may also lead to an increase in longer-term investment.
In addition, the report shows that strong manufacturing is still supporting the development of basic metals. The growing demand for electric vehicles and the increasing demand for batteries have driven the demand for raw materials such as lithium. Demand for lithium rose about 28 per cent in 2017, according to Benchmark Mineral Intelligence, an industry consultant.
The rise in zinc and lithium prices has contributed to an increase in exploration activity over the past 12 months. BHP Billiton (BHP Billiton Ltd.) And other producers have announced potential nickel mining plans.
The value of Australia's committed resource projects will decline in 2018 and 2019 as major investment projects have been completed. About $100 billion in LNG development plans will be completed in 2018, including Inpex's Ichthys LNG and Royal Dutch Shell's (Royal Dutch Shell Plc) Prelude floating LNG project. In its report, the department said the commissioning of the new plant would significantly end the investment cycle of the current project.
SMM Yan Cedar's Translation arrangement