SHANGHAI, Nov.13 (SMM) – SMM surveys major producers in China's base metal market every month to get first-hand production data, and the following table shows latest output data for October 2017.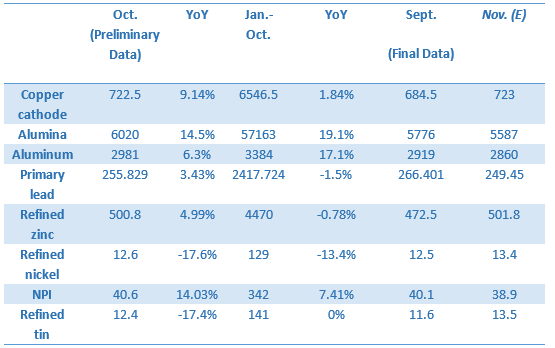 Source: SMM
Unit: 1,000 tonne
Notes: 1. Data in final column (marked with an asterisk) has been revised. 2. NPI output refers to output in Ni content.
Copper Cathode
China's copper cathode output was 722,250 tonnes in October 2017, up 5.55% MoM and 9.14% YoY, according to SMM data. Output in the first ten months of the year totaled 6.5465 million tonnes, up 1.84% YoY.
The output of October keeps rising on monthly basis, mainly because utilization rate of expanded capacity of Daye Nonferrous, Jiangtong Fuye and Dintong Copper had risen, smelting plants like Zijin, Jinchuan and Jinlong also got a output increase. Meanwhile some smelting plant which reduced its production due to short supply of anode copper in September had resumed its output. Since the fourth quarter, most smelting plants have finished maintenance by first three quarters. With few maintenance plan of smelting plants and high price of current copper and spot copper concentrates, smelting plants are willing to catch up with production plan and raise their capacity utilization rate.
SMM learned that Huloudao Hongyue North Copper will launch its 150,000 tonnes copper cathode project in November. As per arranged production plan of smelting plants, SMM predicts China's copper concentrates output in November will keep as high as 723,000 tonnes, rising 8.4% YoY. Output in the first eleven months of the year is estimated to reach 7.2695 million tonnes, up 2.46% YoY.

Aluminum
SMM sees China's aluminum output at 2.981 million tonnes in October, up 6.3% year-on-year and 30.384 million tonnes from January to October, up 17.1% year-on-year.
Aluminium output in October rapidly drops because Shandong Weiqiao, Jiaozuo Wanfang and Shanxi Zhaofeng have reduced their production. Annualized aluminum capacity in operation is 35.099 million tonnes in October, down 416,000 tonnes MoM. Since November, under the green polices during heating season, production limit capacity of alumina in Henan, Shandong and Shanxi has exceeded 2.6 million tonnes. With estimated reducing output, the estimated aluminum output in November is 2.86 million tonnes considering the estimated suspension period is 2-8 weeks as the production limit of aluminium is a progressive process. Before launch of newly-increased capacity of China Aluminium Hualei, China Aluminium Huaren, China Aluminium Huaren, Inner Mongolia Mengtai and Inner Mongolia Chuangyuan, the output in December is expected to keep shrinking. Increase of output from newly-increased and replaced capacity is estimated to emerge intensively in first quarter of 2018.
Alumina
The country's alumina output totaled 6.02 million tonnes in October, up 14.5% year-on-year, and the daily average output was 194,000 tonnes, up 0.9% month-on-month. Output in the first ten months of the year totaled 57.163 million tonnes, up 19.1% YoY, SMM statistics showed.
The ore issue of Henan Sanmenxia Kaiman Aluminium and Shanxi Fushen Aluminium had alleviated. Both companies had resumed their production. Since alumina price keeps strong in October, those overfulfilled plants in September keep over production. Zhongzhou Branch of China Aluminum shrank its output. The estimated output of Alumina in November is 5.587 million tonnes and daily average output is 186,000 tonnes, down 4.1% MoM, which is mainly because of the production limit plan of heating season. SMM learned that enterprises tentatively decides to limit their production from Nov.15th and Alumina Branch of Shanxi Zhaofeng Aluminium has completed its 400,000 tonnes production limit of alumina.
Refined Zinc
China's refined zinc output was 500,800 tonnes in October, up 5.98% MoM and 4.47 million tonnes from January to October, down 0.78% year-on-year., SMM data showed.
September see an obvious MoM rise of output of smelting plants, mainly because many plants are in normal production in excess except Zhongjin Lingnan Nonfemet. Since overall operating rate is not sufficient during first three quarters, many smelting plants raise their operating rates to catch up with production task in fourth quarter, some of which even overfulfill production. Also, high price ensures profits of smelting plants, which stimulates the operating rate. The overall output increase is obvious.
In November, smelting plants basically resume production without newly-increased maintenance. Domestic major plants resume to normal production level, SMM predicts refined zinc output in November is estimated to keep at a high level.
Primary Lead
China's primary lead output was 255,829 tonnes in October, down 4% MoM, up 3.43% YoY and 2.417724 million tonnes from January to October, down 1.5% year-on-year., SMM data showed.
In October except drop in output of Yunnan Tin due to maintenance, Zhenxin Lead and Xiangyun Feilong due to technique update, other plants are stable in production. For November, Gold&Silver Lead of Chifeng, Inner Mongolia is under suspension with 2/3 reduction in production. Smelting plants in Henan will experience production limit and reduction due to green policies for about one week. Other plants keep stable. SMM learned that lead concentrates inventories of smelting plants is at low level and future supply is expected to become short. The estimated primary lead in November will continue to drop to 249,450 tonnes.
Refined Nickel
China's refined nickel output was 12,600 tonnes in October, up 1.3% MoM and down 17.6% YoY. Output in the first ten months of the year totaled 129,000 tonnes, down 13.4% YoY.
The main reason for increased production is that Jinchuan Group finished maintenance in October with resumed production, with 800 tonnes' rise to 11,300 tonnes compared to September. The Group is bullish at future nickel price. In November its refined nickel output is estimated to increase to 12,100 tonnes. Other plants are stable. The estimated refined nickel output in November is around 13,400 tonnes.
NPI
China's NPI output grew 1.25% on MoM to around 40,600 tonnes in October. Output in the first ten months of the year totaled 342,000 tonnes, up 7.41% YoY, which is mainly because of slight increase of high-nickel pig iron output. It is basically sure that the domestic nickel pig iron output will reach its yearly peak in October.
Since profits return of high-nickel pig iron plants in June, the output increase is continuing but the growth speed is slowing down. In October those suspended plants have all resumed production, with upper limit of capacity utilization rate. Some plants raise production slightly for integrated production need of stainless steel.
In November, the domestic nickel pig iron output will reduce because from Nov.15th three plants in Linyi of Shandong Province are required to limit production by 50%. Detailed information needs to be tracked further.
Tin
China's refined tin output was 12,400 tonnes in October, up 7.2% on the month, down 17.4% YoY. Output in the first ten months of the year totaled 141,000 tonnes, according to SMM data.
In October Yunnan Tin resumed its production but it has not recovered completely. Huaxi Group resumed production partly in October since internal maintenance in mines with short supply of raw materials. Some tin plants in Yunnan reduce part of their output due to transformation of environmental equipment. Three plants in Jiangxi which resumed in August has further resumed production with rising output. Inner Mongolia Dajinzi Tin are of zero output due to instable furnace condition. Estimated refined tin output in November is about 13,500 tonnes, rising 8.9% MoM, mainly considering Yunnan Tin and Huaxi will resume to normal production gradually. Hence overall output will recover.
---
For news cooperation, please contact us by email: gaotian@smm.cn or service.en@smm.cn.