SHANGHAI, Oct. 30 (SMM)-Zinc prices maintained upward momentum in 2017, thanks to the fundamental story. LME zinc refreshed a 10-year high, and SHFE zinc jumped above 27,000 yuan per tonne, up over 20% so far this year.
Supply tightness was the main driver of the surge in zinc price in 2017, said Yao Qunxiang, head of SMM lead&zinc team, at the 2017 SMM Nonferrous Metals Industry Meeting.
Zinc concentrate output posted slower-than-expected growth in 2017 due to environmental protection reason, and this constrained refined zinc output, both bolstering zinc prices, he said.
Where Will Copper Price Go in 2018? SMM Reports
Domestic Zinc Concentrate TCs Stay Low
Domestic zinc concentrate TCs leveled out in H1 2017, while TCs of imported zinc concentrate rose slightly. In the latter half of the year, demand for zinc concentrate grew as smelters stepped up production after maintenance. Meanwhile, stockpiling for winter production was undertaken earlier this year. So, domestic zinc concentrate TCs fell noticeably across China, and will remain low through the year's end.
Global zinc ore supplies will add about 300,000 tonnes in 2018, Yao said.
China Refined Zinc Supply and Production
According to SMM data, refined zinc output at domestic zinc smelter slid 1.46% year-on-year during Jan-Sept 2017. Refined zinc output began to drop from March. Smelters stepped up production in H2 2017, but growth may fall short of the same period of last year because of raw material shortages and environmental protection checks. Refined zinc output is set to stay low in Q1 2018 because of insufficient zinc concentrate supply.
China Zinc Consumption
SMM survey finds zinc demand has been released since Q3 as operating rates at galvanizers rose to a high level. Zinc consumption by the galvanizing sector will grow steadily in 2017.
Based on the above reasons, zinc price is expected to remain strong in early 2018. But as supply and demand are gradually balanced, zinc prices will fall slightly from highs in the latter half of the year, looking for support from 20,000 yuan per tonne, he predicted.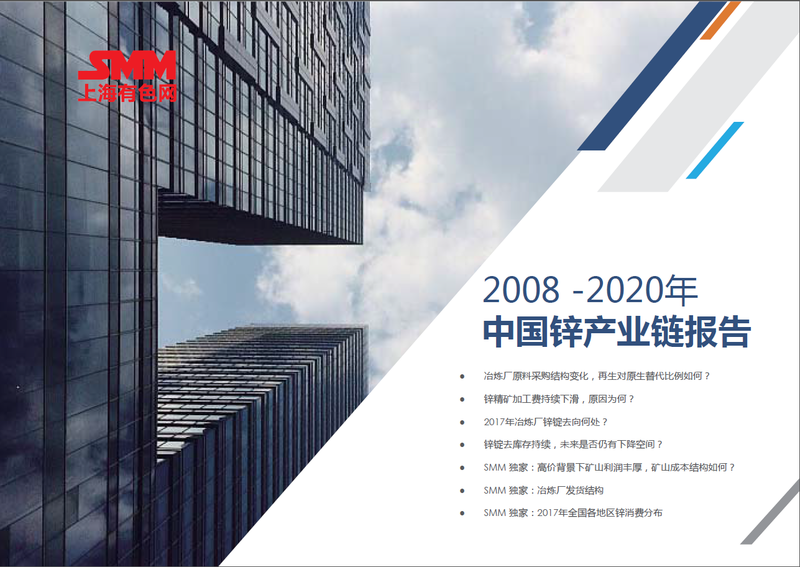 Note: This article is part of SMM analyst's speech at the 2017 SMM Nonferrous Metals Industry Meeting. For more exclusive data, please see SMM's 2017 Copper Industry Report.
Contact: Liu Xiaoxia
Telephone: 51666822/13916447260