SHANGHAI, Oct. 30 (SMM)-Copper prices extended gains in 2017 after a surge in 2016, with SHFE copper popping over 20% so far this year.
At the 2017 SMM Nonferrous Metals Industry Meeting, an analyst from SMM said copper price will rise in 2018 due mainly to shrinking supply. The average LME copper price will range between USD 6,800-6,900/mt, and SHFE copper prices should average RMB 53,000/mt.
Will Zinc Ore Shortages Remain the Driver of Zinc Price Gains in 2018? SMM Reports
Supply
Global copper giants slowed investment as copper prices were sluggish over the past few years, so copper ore supplies will grow at slower rates from 2018. Global copper ore supply will fall 1% in 2017 due to increased disruption ratio. In 2018, global copper ore supply will grow at a 3.3% rate to 650,000 mt (Cu content), with 110,000 mt (Cu content) contributed by China.
China's copper scrap imports will fall precipitously in the foreseeable future due to the ban on the import of copper scrap in Category 7 which will be effective in late 2018, strict environmental protection and tightened import policy. As copper smelting projects will boom in China in the next 2-3 years, domestic smelters' reliance on imported copper concentrate will increase. Global copper ore supply looks set to fall short of demand with new smelting capacities coming on stream.
SMM predicts China's copper cathode output will grow 3.1% and 5.6%, respectively, in 2017 and 2018. The proportion of secondary copper output will remain around 18% in the total.
Demand
SMM expects China's copper consumption to grow at a slow pace in the foreseeable future.
Consolidation Ratio Rises Further in Copper Wire&Cable Sector in 2017
The Xi'an wiring scandal accelerated reshuffle in the copper wire&cable sector. Frequent quality checks forced a large number of small producers to shut down, and this drove more orders to medium and large ones.
Copper wire&cable producers saw limited growth in orders from the power grid sector as investment in the power grid sector has increased at a slow pace this year. Orders were mainly from the real estate, PV and infrastructure construction sectors.
The State Grid planned to invest RMB 465.7 billion in power grid in 2017, up 6.1% from the investment scheduled for 2016, and 6.4% lower than 2016's actual investment.
Copper Consumption by Real Estate Sector to Fall in 2018
Copper consumption by the property sector will decrease in 2018 since the area of buildings newly-built, under construction, completed and sold fell on the heels of restrictions on purchase and loans. Some additional first- and second-tier cities also released regulations on the property market recently. So, the growth in trading volumes in the property market will continue falling in the foreseeable future, and traded prices will stabilize.
Electric Vehicle Deployment to Boost Copper Consumption
Copper consumption will receive a boost as the electric vehicle market booms. Electric vehicle output and sales will maintain high growth in 2019 thanks to policy support. According to the 13th Five-Year Plan, China's electric automobile output is expected to reach 2 million vehicles by 2020, and this will cause annual copper consumption to increase to 100,000 mt.
Global copper consumption will grow at a 2-2.5% tempo in 2018.
Copper Scrap Trading Suddenly Cools on Narrowing Price Spread, SMM Reports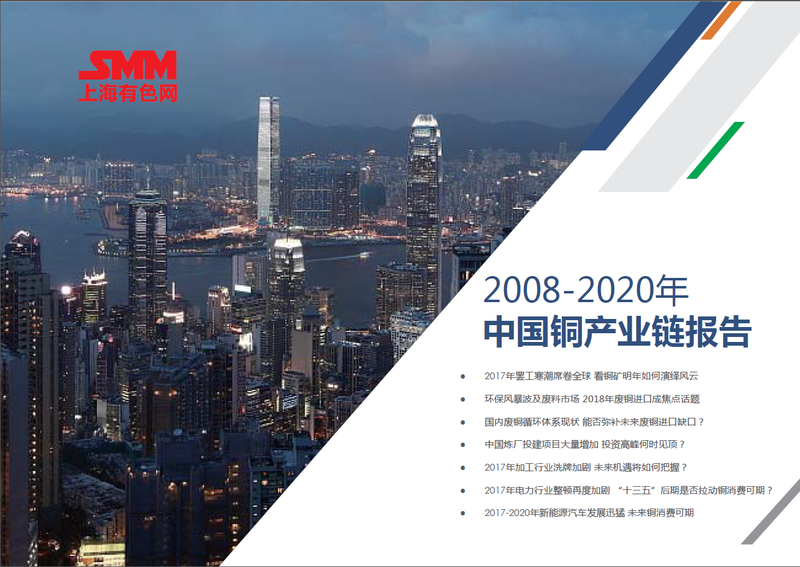 Note: This article is part of SMM analyst's speech at the 2017 SMM Nonferrous Metals Industry Meeting. For more SMM exclusive data, please see SMM's 2017 Copper Industry Report.
Contact: Liu Xiaoxia
Telephone: 51666822/13916447260