Thursday June 08, 2017 16:18
(Kitco News) - Despite renewed enthusiasm in the gold market, with prices nearly reaching $1,300 this week, one analyst says he is not yet convinced, especially given weakness in related markets.
"I am skeptical that gold can break $1,300 on this try as the performance from silver and gold stocks recently has not confirmed the strength in gold," Jordan Roy-Byrne, editor of The Daily Gold, told Kitco News in an email response Thursday.
And, until gold breaches that level, the recent rally seen in the miners, especially over the last month, is not entirely convincing either, the newsletter writer added.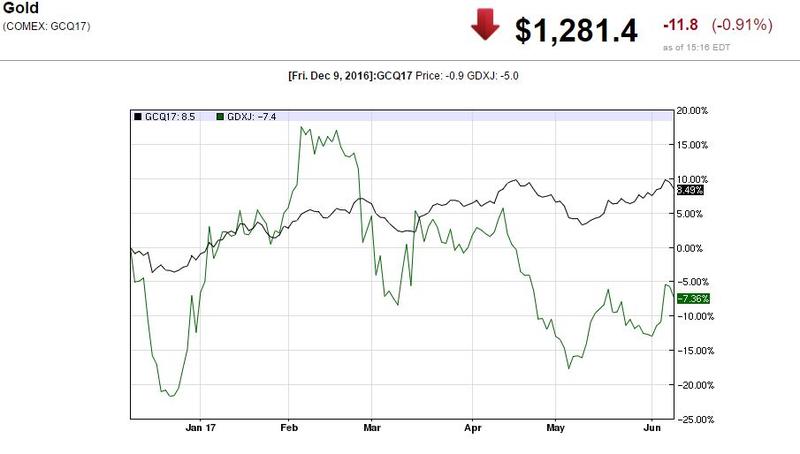 Gold bulls have yet to push prices above that key resistance level this year, but prices are still up 11% year-to-date. The VanEck Vectors Gold Miners ETF (GDX) is mirroring gold, up 10.9% over the same time period. Meanwhile, VanEck's Junior Gold Miners ETF (GDXJ) is lagging behind, up just 6% this year.
"The technical setup is if gold could break $1,350-$1,375, then it would be in position for a strong move to $1,550. On the way, $1,300 is the strongest and most important resistance," Roy-Byrne said.
"If gold could establish $1,300 as a floor, the miners (GDX, GDXJ) would be poised for very strong performance over the ensuing 12-18 months."
After hitting seven-month highs mid-week, gold prices have cooled off, settling the day down more than 1% at $1,279.50 an ounce.
By Sarah Benali
For Kitco News