By Gary Wagner
Thursday February 16, 2017 18:57
For the second consecutive day, gold prices have moved moderately higher, trading to an intraday high of $1243.70, this basis the April futures contract. If gold prices hold onto their weekly gains through tomorrow, Friday will mark the third consecutive week of gold moving to higher pricing. Seven of the last eight weeks have concluded with higher gold prices with six of the last eight weeks containing a higher high than the previous week. Based upon this technical data, it is clear that the bullish trend, which began in December of last year, is still fully intact.
Gold is trading moderately higher, currently up eight dollars at $1241 per ounce. This price point puts current pricing directly below technical resistance, which is at $1242. This price point ($1242), is precisely a 61.8% extension of the initial rally which began mid-December with gold trading at $1120 and concluded on January 24 with gold trading at $1220 per ounce.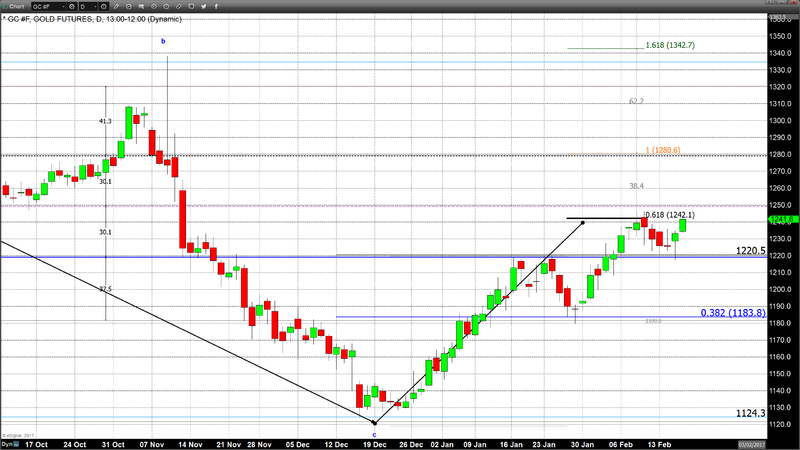 From January 24 to January 27, gold prices corrected roughly 38% of the $100 rally, taking the gold price down to $1180. Based on this price action, the Fibonacci extension of 0.618 begins at 1180 and concludes at 1242.
A break above this resistance area could put gold prices back into major rally mode, which we believe will take gold prices to at least $1280 per ounce. This would be a one to one extension of the first rally in gold since prices began to selloff strongly in August of last year when gold was trading at $1380 per ounce.
It's all About the Dollar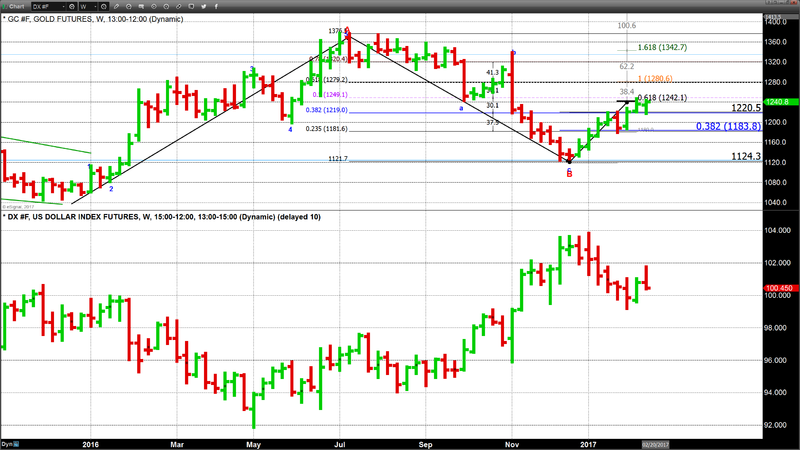 If you compare recent price action in gold and the US dollar, it is quite evident that the US dollar strength, beginning in August of last year, corresponds precisely to the beginning of the sharp correction in gold prices. There is a precise negative correlation between the US dollar and gold because of this pairing. However, there is also market sentiment as traders bid gold prices up or down. It is the combination of both of these forces that are a direct reflection of gold prices.
Which brings us to the following conclusion: Price fluctuations in gold over the last six months have mostly been a reflection of dollar strength or weakness, accounting for a least 70% of price fluctuations in gold. We expect this trend to continue, at least for the short term.