Monday November 21, 2016 18:23
As we approach Thanksgiving later this week, it seems as though the recent presidential election continues to have a positive influence on the US equities markets. The overall market sentiment continues to be a short-term optimism based upon the current belief that President-elect Trump's policies will be supportive of business as a whole. It also includes optimism that the new administration will add fiscal stimulus in addition to the monetary stimulus already being funded by the Federal Reserve.
Renewed optimism in US equities today was also fueled partially by higher crude oil prices, which rose approximately 4 % today to close at 47.50, a gain of nearly 2 dollars per barrel.
Signals made by both Iran and Iraq which pointed to a potential OPEC accord were primary factors that were cited as a major motivating factor for crude oils upside spike today. Based upon this news, energy stocks led today's equities advance.
Energy stocks are now up 18.6% year to date.
Precious metals closed higher on the day. Driven by a weaker US dollar, precious metals got a boost with gold trading higher on the day closing up roughly 6 dollars to 1214 (spot).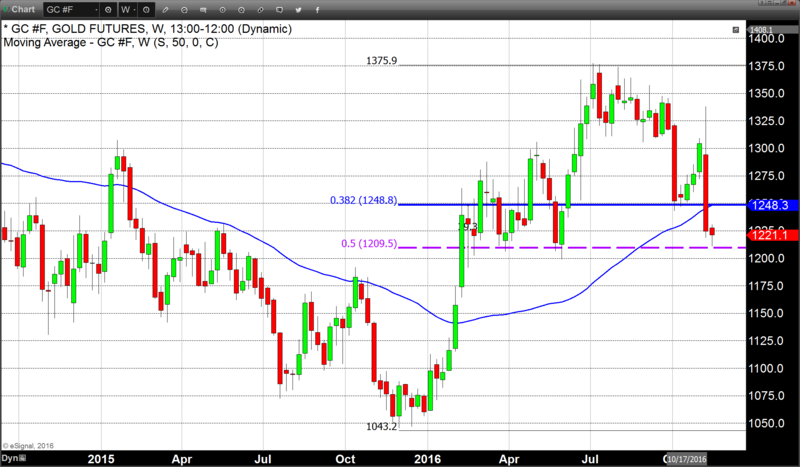 Both platinum and palladium gained on the day. However, even with a moderate push due to a lower US dollar, silver was only able to eke out a small gain today, closing slightly lower on the day (Comex Futures) at approximately $16.58.
Noteworthy today was the fact that according to Fed Funds futures the probability of an interest rate hike in December is now at 100%.
More so based upon this high probability of the forthcoming interest rate hike in December being factored into the markets, we could see the precious metals rise on other factors now that an interest rate hike has as been completely factored into the current price of precious metals.
With the Thanksgiving holiday, just around the corner we all need to be aware of what we should be thankful of and for. To that end I hope that you embrace the good fortunes that you have, and to cherish your family, your friends and your health.
For those who would like a deeper analysis, I invite you to try our daily video newsletter. Simply use the link at the bottom of this report to sign up for a free trial.