By Kira Brecht
Monday November 14, 2016 11:52
(Kitco News) - Nov. 14 – Gold prices are falling precipitously Monday morning in a risk-off trade. Meanwhile, the yields on 10-year Treasury notes are soaring and copper prices have skyrocketed in the wake of the presidential election.
Gold has rallied significantly in 2016 – over 20% higher at its peak. The policy world has changed a bit and markets are retrenching to reprice the "new expectations."
Here are a few of the new expectations:
The new president will enact a massive spending and infrastructure bill to boost economic growth and create new jobs.
The new president will move to slash individual and corporate tax rates.
Health care will be rejiggered.
The financial markets are repricing to expectations for stronger economic growth, which could mean – yes – more interest rate hikes (but we have known those are coming for over a year now), but also more inflation.
Here are 3 charts gold investors should look at now:
10-year US Treasury yields
Copper futures
Daily gold futures are approaching key support
Treasury Yields: Gold investors, who generally have a long-term investment time horizon, would be well served by taking a look at the dramatic leap in 10-year Treasury bond yields. Since November 4, the yield on the 10-year Treasury yield has skyrocketed from 1.77% to a high at 2.27% in early Monday trade. That is a huge move in a very short period of time.
What is the Treasury market saying? Inflation is coming, inflation is coming.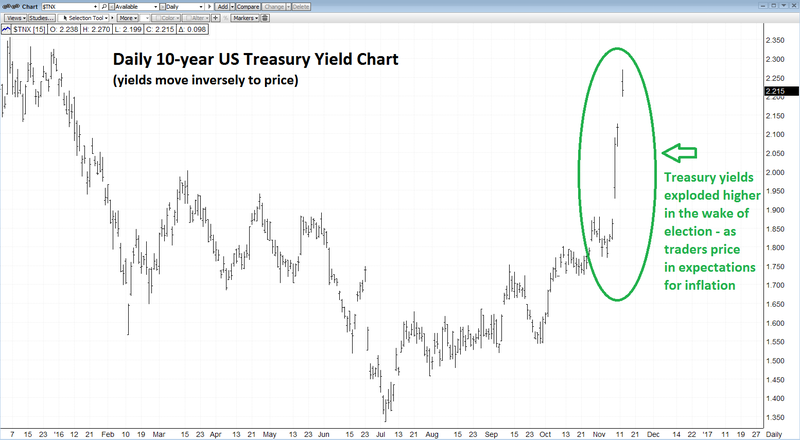 Copper futures: The copper market has surged dramatically higher – breaking out of its recent large neutral range. President-elect Trump's proposals for massive infrastructure spending are boosting copper – as it is widely used in a number of manufacturing and building applications across industries.
What are copper futures saying? The copper market is often thought as "Dr. Copper" – because of its ability to presage turning points in the global economy. Again, this massive infrastructure proposal is inflationary. Is money velocity about to pick up? There is an awful lot of money out there in the system. The central bankers have been busy since the 2008 global financial crisis.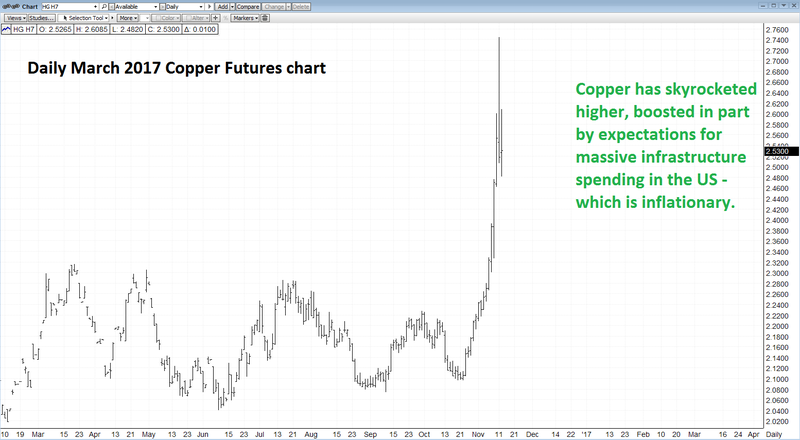 Key takeaway: The gold market is slumping – and approaching key support at its May low at $1,207. Long-term gold investors who are eyeing bigger trends ahead – such as the resurgence of inflation already signaled by the Treasury and copper market – may be looking at that level as a buying spot. Don't be surprised if the gold selling stalls out here.