SHANGHAI, Nov. 9 (SMM) –China Aluminum International Trading Co. (Chalco Trading) announced big hike in aluminum prices it offered in major markets today, it said on its WeChat.
For details, please see the table below:
Unit: yuan/tonne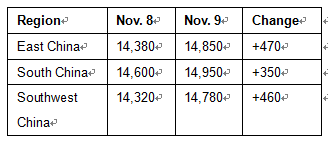 Note: Chalco Trading is a full subsidiary under Chalco responsible for alumina and aluminum sales.
Rusal Aluminum Output Rises during January-September
The article is edited by SMM and is provided for information purpose only. SMM assumes no liability and does not warrant the accuracy, reliability or completeness of information contained or quoted in the article, either express or implied. SMM further disclaims any liability for losses in connection with the information contained or quoted in the article.
For news cooperation, please contact us by email: sallyzhang@smm.cn or service.en@smm.cn.