by Jeff Yoders on NOVEMBER 4, 2016
U.S. builders cut their spending on construction projects in September, the second straight monthly decline. Much of the decrease came as government spending for schools, sewers and transportation infrastructure projects tumbled. Our Construction MMI increased a point even as contractors cut spending.
This was part of a yearlong decline as infrastructure funding has become a key policy issue in the presidential election.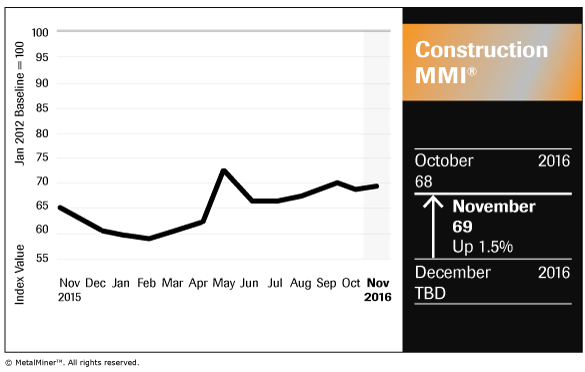 The Commerce Department said Tuesday that total construction spending fell 0.7% in September to a seasonally adjusted annual rate of $1.15 trillion. Publicly-funded construction dropped 0.9% to an annual rate of $270.3 billion. Over the past 12 months, government construction has slumped 7.8% — a decline equal to nearly $23 billion. It's been a bad year for government infrastructure spending.
Federal government construction spending tumbled 1.9% after surging 4.8% in August.
Despite interest rates near historic lows, making it cheaper for the government to borrow and investment in facilities, the outlook for infrastructure spending has deteriorated. Next week's Presidential election will likely clear up the short-term future of government infrastructure spending.
Both Hillary Clinton and Donald Trump have pledged to revive infrastructure funding if elected. By reforming the business tax code, Clinton would provide an additional $250 billion in direct funding over five years and found a new infrastructure bank with $25 billion. Trump would rely on new tax credits for infrastructure, with the campaign projecting an additional $1 trillion being spent over 10 years.
Both would face the difficult task of shepherding their infrastructure spending ideas through what could be an adversarial congress.