By Gary Wagner
Thursday November 03, 2016 17:11
Gold saw a nice little rise today, about half of which came on the back of dollar weakness. The question is: where is the dollar weakness coming from? Certainly, a bit is coming from the tightening of the U.S. election.
But Brexit's stumble in the British court system has surely helped the pound and the euro against the U.S. dollar.
It's also given traders a chance to regroup and reconsider the position of the dollar. Maybe it had just gotten too darn strong and the election and the U-turn on Brexit provided the needed excuses to sell down the greenback.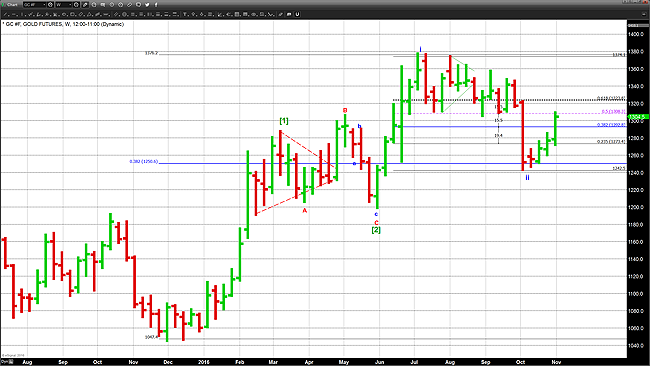 There is also the problem with oil that is throwing lots of shade on equities. West Texas Intermediate crude settled down 68 cents, or 1.5%, at $44.66 per barrel, the weakest it's been since September 23. The contract's lowest level of the session was $44.37, flirting madly with breaking through the $44 pb mark but stopping.
A dramatic growth in U.S. stockpiles (plus 14.4 barrels!) is driving the current dip. Recall that just seventeen days ago U.S. crude was flying high at $52 pb. The YTD% change is currently right around inflation levels. And, twelve months ago, we were at $80 per barrel.
These are the earmarks of an ongoing global glut and one that shows no signs of abating. The oversupply is not limited to crude, either. Natural gas supplies were up 54 billion-with-a-B cubic feet this week.
So, even if George Washington rose from the dead to sweep into the White House; even if Brexit had never been heard of and even if the global economy grew y 10%, we'd still have too much energy.
Too much energy keeps a lid on the prices of almost everything else.
We would like to offer some wisdom concerning the effects of an election on the economy, but the pattern of pre-election stock movement is generally up.
Since the election of Herbert Hoover in 1928, the S&P 500 (or equivalent) rose every week before elections except twice. Those two times offer little in the way of clues. The first time was during the 1968 election, which ultimately yielded us Richard Nixon over Hubert Humphrey. (Both were economic centrists.) The second time gave us George H.W. Bush, who beat Michael Dukakis. (Both were moderates.)
So, since 1928, you would have not been wise to bet on haven plays the month before elections.